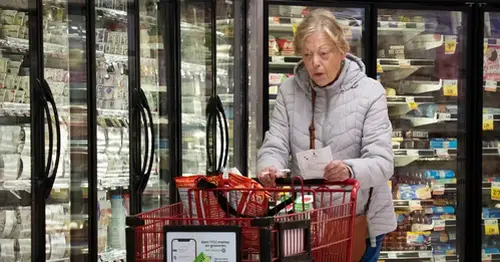 Social Security COLA for 2024: Recipients may see the smallest increase in years
Inflation is falling; that's the good news.
But in a quirk of the calendar, Social Security beneficiaries are likely to miss out on another large improvement to their buying power in 2024, one year after seeing the largest annual cost-of-living adjustment in four decades.
It'd be a blow to a group struggling with the soaring cost of everyday items.
The Bureau of Labor Statistics reported this week that the annual Consumer Price Index for All Urban Consumers — the standard measure covering most of the U.S. population — fell to 4% in May, the lowest reading in two years.
May CPI report indicates inflation continues to slow
June 13, 2023
04:35
The figure was even lower for the Consumer Price Index for Urban Wage Earners and Clerical Workers (CPI-W): 3.6%. This alternative index is the one used to determine the annual cost-of-living adjustment for Social Security recipients.
On the face of it, it's good news: The pace of price growth for fixed-income recipients is falling even faster than for the wider population.
And given its current trajectory, the CPI-W is likely to fall even further as the year progresses.
The wrinkle here is that the Social Security Administration calculates the next year's cost-of-living adjustment (COLA) using the average of the CPI-W readings for July, August and September.
As a result, it is likely to capture a reading that fails to reflect the totality of outsized price increases that fixed-income recipients have been experiencing since 2021, when inflation began to soar.
In a release Tuesday, the Senior Citizens League, an advocacy group, estimated the cost-of-living adjustment for 2024 could be as small as 2.7%, a significant decrease from this year's 8.7% bump.
According to the League's calculations, over the past three years or so, the average Social Security benefit fell behind by approximately $1,054, "leaving 53% of retirees doubting they will recover because household costs rose more than the dollar amount of their COLAs," the League said.
In a separate press release last month, the League calculated that the oldest Social Security beneficiaries — those who retired before 2000, who would now be at least 85 years old — have lost 36% of their buying power over the past two decades. The organization blames inadequate COLA increases amid surging price growth for goods and services that are most commonly used by seniors.
Mary Johnson, policy analyst with the League, said that absent a policy intervention from federal lawmakers, she doubts a full catch-up will ever occur.
"While the rate of price increases has slowed, they're still higher than they were at the start of the inflationary period — much higher," Johnson told NBC News.
Source: https://www.nbcnews.com/business/consumer/social-security-cola-2024-how-much-may-be-smallest-in-years-rcna89257
Related Posts