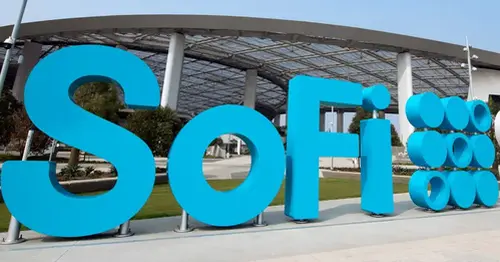 SoFi Bank sues to block Biden's student loan payment pause
WASHINGTON — A private bank is trying to force the Biden administration to end its pause on federal student loan payments, arguing the moratorium has no legal basis and has cost the bank, known for its refinancing business, millions of dollars in profits.
In a federal lawsuit filed Friday in Washington, SoFi Bank N.A. asked a federal judge to overturn President Joe Biden's latest extension of the payment pause. Student loan payments first were halted at the start of the pandemic by President Donald Trump's administration. The pause has been extended eight times over three years.
The bank says its federal student loan refinancing business has suffered because borrowers have little incentive to refinance while payments and interest remain on hold. At a minimum, the lawsuit asks a judge to limit the pause only to borrowers who would be eligible for Biden's cancellation plan.
White House announces new plans to possibly lower, pause student loan payments
Jan. 10, 2023
00:57
Biden's latest extension, which was announced in November and could stretch as far as this summer, is unlawful on "multiple grounds," the lawsuit claims.
Unlike the first seven extensions, which were meant to help borrowers struggling as a result of the pandemic, the latest one was enacted solely in response to legal challenges to Biden's plan for widespread student debt forgiveness, the lawsuit says. The plan is currently being challenged in the Supreme Court, which is expected to rule by June.
"The eighth extension does not even attempt to redress harm from the pandemic at all, but rather to alleviate 'uncertainty' caused by the debt-cancellation litigation," SoFi says in the lawsuit.
SoFi argues that isn't a valid reason authorized by the HEROES Act, the federal law the Biden administration has invoked to continue the pause. The bank also argues the extension violated the Administrative Procedure Act because the administration failed to invite feedback from the public.
The most recent extension has cost the bank at least $6 million in lost profits, SoFi says, and it could lead to a total of $30 million in losses if it continues through August.
"In essence, SoFi is being forced to compete with loans with 0% interest rates and for which any ongoing repayment of the principal is entirely optional," the lawsuit says.
The Education Department defended the legality of the pause, calling the lawsuit "an attempt by a multi-billion dollar company to make money while they force 45 million borrowers back into repayment."
"The department will continue to fight to deliver relief to borrowers, provide a smooth path to repayment and protect borrowers from industry and special interests," the agency said in a statement.
The lawsuit drew swift condemnation from borrower advocates, who called it a money grab at the expense of those struggling with student debt.
Source: https://www.nbcnews.com/politics/joe-biden/sofi-bank-sues-block-bidens-student-loan-payment-pause-rcna73925
Related Posts