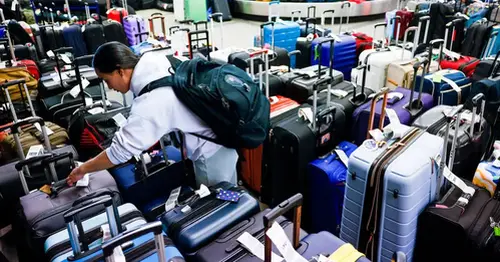 Southwest posts $220 million loss last quarter after holiday meltdown
Southwest Airlines reported a $220 million loss for the fourth quarter after the carrier's holiday meltdown drove up expenses and cost it millions in revenue during what was expected to be the busiest travel period since the pandemic began.
It forecast a first-quarter loss, citing current "revenue and cost trends," while analysts have been anticipating a per-share profit of 19 cents for the current quarter, based on estimates compiled by Refinitiv.
Southwest airlines says it's making progress in processing refunds
Jan. 4, 2023
00:30
Southwest earlier this month said it canceled around 16,700 flights between Dec. 21 through Dec. 31 after severe winter weather swept through the U.S.
The airline on Thursday said the mass cancellations hit its pretax results by $800 million, in line with its estimate earlier this month of a hit between $725 million and $825 million.
Southwest shares were down about 3% in premarket trading after reporting results.
Here's how Southwest performed in the fourth quarter, compared with Wall Street expectations according to Refinitiv consensus estimates:
Adjusted loss per share: 38 cents vs an expected loss of 12 cents.
Total revenue: $6.17 billion vs an expected $6.16 billion.
Rival airlines had largely recovered around Christmas after the winter weather, but Southwest's technology was unable to process all the flight changes and crews had to call the carrier to get rescheduled. The carrier decided to scrap most of its flights in the following days to reset its operation, CEO Bob Jordan said earlier this month.
The carrier has been processing tens of thousands of refunds and complex reimbursements for travelers who booked flights on other airlines to get to their destinations.
More from CNBC
Tesla reports record revenue and beats on earnings
Smartphone shipments plunge to a low not seen since 2013 — their largest ever decline
GDP report could show solid fourth-quarter growth but still signal a recession is coming
Southwest's executives will hold a call with analysts and media at 12:30 ET.
Source: https://www.nbcnews.com/business/business-news/southwest-posts-220-million-loss-last-quarter-holiday-meltdown-rcna67590
Related Posts