Southwest reports progress on refunds after holiday chaos but sees new delays
Southwest Airlines, which canceled thousands of flights last week and infuriated passengers, said Tuesday it was making "solid progress" on processing refunds even as another problem caused more travel woes.
Multiple people tweeted Tuesday that crews told them planes couldn't take off because the weather system was down or they lacked necessary weather information.
The reports of delays Tuesday came just days after the airline said it resumed normal operations following the holiday travel chaos.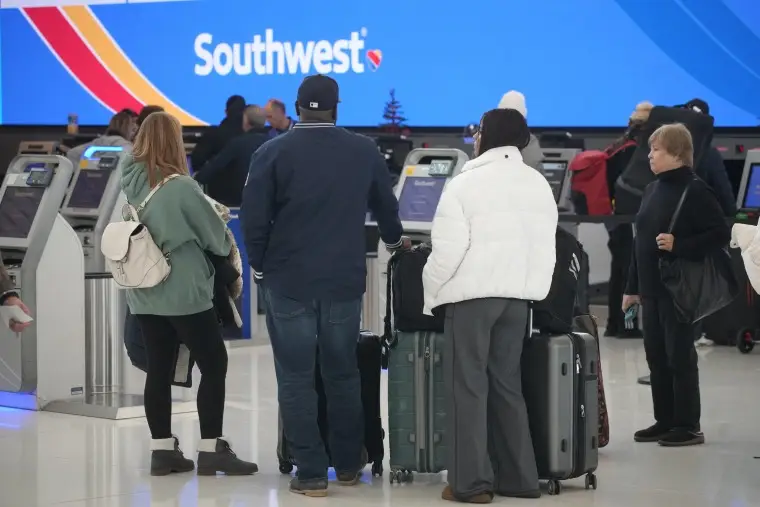 Southwest in a statement late Tuesday said third-party vendor IBM "experienced a brief outage in their service that provides weather data prior to Southwest dispatching flights."
The airline said in the statement that "only minor delays" were anticipated for the rest of the evening. 
"We apologize for any inconvenience and appreciate everyone's patience as we work to get Customers to their destinations safely and as quickly as possible," the statement said.
The Federal Aviation Administration declined to comment, saying it was a matter for the airline. IBM did not immediately respond to a request for comment early Wednesday.
The flight-tracking website FlightAware showed 138 Southwest cancellations — or 3% — and around 1,560 delays Tuesday. There were 24 Southwest cancellations and 115 delays for Wednesday, according to the website.
Delays and cancellations close out holiday travel season
Jan. 3, 2023
02:01
The latest delays came after the Dallas-based airline, which canceled two-thirds of its daily flights for most of the week before New Year's Day, said Friday that normal operations had resumed.
All carriers were affected by a major winter storm that impacted most of the U.S. going into the Christmas weekend, but other carriers recovered.
Southwest canceled thousands of flights, stranding passengers and their luggage and leading to what has been called a meltdown that enraged travelers.
The U.S. Department of Transportation called it "unacceptable" and vowed to hold Southwest accountable. Transportation Secretary Pete Buttigieg said the meltdown was a failure of Southwest's systems.
Southwest's CEO has pledged investments in technology, which he said were already underway.
Earlier Tuesday, the airline said in a statement that it was working to win back its customer's trust. Southwest said it had made "solid progress" to rectify problems caused to passengers, including in processing refund requests and reuniting travelers with their lost luggage.
White House press secretary Karine Jean-Pierre said Tuesday that "Southwest Airlines failed its customers — point blank."
She said customers must be reimbursed and be reunited with their luggage.
"The Transportation Department is watching. They're monitoring this very, very closely to ensure that this all happens and will seek fines from Southwest if it doesn't cover a cost," Jean-Pierre said.
Source: https://www.nbcnews.com/news/us-news/southwest-reports-progress-refunds-holiday-chaos-sees-new-delays-rcna64184
Related Posts