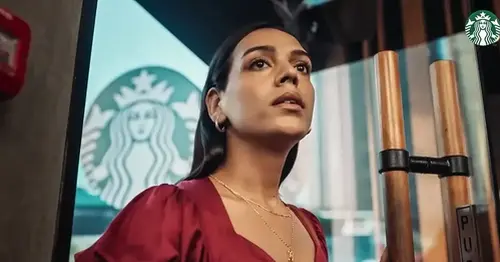 Starbucks India ad starring trans model goes viral with mixed reactions
A new Starbucks India campaign featuring a trans model has caused a stir among social media users worldwide.
The two-minute ad, titled "#ItStartsWithYourName," depicts a Hindi-speaking family meeting at a Starbucks to reconcile a father's strained relationship with his trans daughter. After brief tension, the man shows his acceptance of his daughter by ordering coffees for everyone under her new name, "Arpita."
"For me, you are still my kid," the dad says in the ad, translated to English in subtitles. "Only a letter has been added to your name."
The ad has been viewed online millions of times since its release last week, and reactions have run the gamut from praise to staunch opposition. Many South Asians said the depiction hits close to home and is an important step forward for young Indians in the LGBTQ community.
"I cannot imagine being estranged from my children for any reason let alone for them being who they are, but I know not everyone is there yet," one person tweeted. "This advert for Starbucks from India, still an incredibly conservative country, sends a powerful statement."
But some in the U.S. and India lambasted Starbucks for going "woke," even calling for a boycott of the company.
"Starbucks facing a backlash in India after going full Bud Light," an Australia-based news podcast host tweeted, referring to the beer brand that recently collaborated with trans influencer Dylan Mulvaney. "If saturating the market with a mediocre US coffee brand wasn't bad enough, now they are bringing their woke corporate culture to the Sub-Continent."
A spokesperson for Starbucks said that despite the backlash, the company will continue to support the trans community.
Source: https://www.nbcnews.com/news/asian-america/starbucks-india-ad-starring-trans-model-goes-viral-mixed-reactions-rcna84958
Related Posts