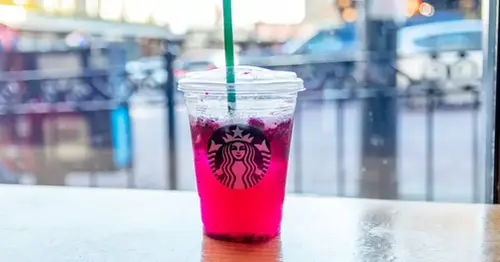 Starbucks to face lawsuit alleging its Refresher fruit drinks are missing fruit
Starbucks has been ordered by a federal judge to face a lawsuit claiming that some of its Refresher fruit drinks lack, well, fruit.
U.S. District Judge John Cronan rejected Starbucks' request to dismiss nine of the 11 claims in the class-action complaint because "a significant portion of reasonable consumers" would assume that the beverages in question would contain the fruit in their names.
Starbucks calls the allegations "inaccurate" and "without merit."
In August 2022, the complaint was filed in the United States District Court of the Southern District of New York, alleging Starbucks engaged in false and deceptive practices in the marketing and sale of a number of its Refresher drinks.
These drinks are: Mango Dragonfruit Lemonade Starbucks Refreshers and Mango Dragonfruit Starbucks Refreshers, which plaintiffs allege are missing mango; Strawberry Açaí Lemonade Starbucks Refreshers and Strawberry Açaí Starbucks Refreshers, which plantiffs allege don't include açaí berry; and Pineapple Passionfruit Lemonade Starbucks Refreshers and Pineapple Passionfruit Starbucks Refreshers, which plaintiffs allege don't contain passion fruit.
Based on this advertising, plaintiffs Joan Kominis, of Astoria, New York, and Jason McAllister, of Fairfield, California, allege that "reasonable consumers" bought the drinks under the assumption that they contained "all the fruits clearly listed in their respective names," reads the judge's opinion, "yet the Products are each missing either mango, passion fruit, or açaí."
The plaintiffs said the main ingredients in these drinks were water, grape juice concentrate and sugar, and that the beverages "differ from other Starbucks products" in that the drinks don't actually contain the items in their names, according to the opinion.
"Starbucks' hot chocolate contains cocoa, its matcha lattes contain matcha, and its honey mint tea contains honey and mint," reads the complaint, adding that the six drinks do in fact contain freeze-dried pieces of strawberries, pineapple and dragon fruit, but that Starbucks "does not affirmatively indicate anywhere which ingredients are and are not in the Products."
Kominis said that she and other consumers bought these menu items and "paid a premium price" based on Starbucks' naming of them, and would either not have purchased them or "paid significantly less for them" had they been aware they were missing one of the named fruits.
"The allegations in the complaint are inaccurate and without merit," a Starbucks spokesperson tells TODAY.com. "We look forward to defending ourselves against these claims."
Starbucks argued that the fruits mentioned in the names of the Refreshers were intended to "describe the flavors as opposed to the ingredients" of the drinks, but Judge Cronan rejected this argument, stating that, "in contrast with the use of the term 'vanilla,' which has been the subject of several prior cases, nothing before the Court indicates that 'mango,' 'passionfruit,' and 'açaí' are terms that typically are understood to represent a flavor without also representing that ingredient."
Judge Cronan granted the motion to dismiss two allegations with prejudice, finding the plaintiffs failed to provide sufficient evidence that Starbucks intentionally defrauded consumers, as well as an unjust enrichment claim, and allowed the other nine to move forward to trial.
Robert Abiri, the laywer for the plaintiffs, tells TODAY.com they're "very pleased with the outcome" and "hoping to get to a point of reaching class certification."
Source: https://www.nbcnews.com/business/business-news/starbucks-lawsuit-refresher-fruit-drinks-missing-fruit-rcna111479
Related Posts