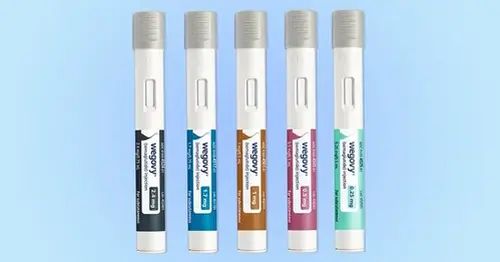 Supply of weight loss drug Wegovy expected to improve in next few months, company says
The maker of the popular weight loss drug Wegovy said Wednesday that it is ramping up production of the drug, which has been in short supply in pharmacies across the United States.
The drug faced widespread shortages last year due to its increasing popularity, executives for drugmaker Novo Nordisk, said on a call with investors Wednesday.
"We know for a fact that patients have been lined up," company CEO Lars Jorgensen said on the call.
Ozempic, Wegovy shortages amid skyrocketing popularity for weight loss
Jan. 17, 2023
02:13
Novo Nordisk said on Dec. 28 that all dosages of the drug would be available again after supply issues, but added that it may take time for the drug to arrive at pharmacies from distribution centers. 
There continues to be "pent up demand" for Wegovy, but Novo Nordisk expects this to become less of a problem as more supply of the drug becomes available over the next few months, Jorgensen said.
"We are obviously encouraged by the trendline we see, but we also do believe there will be a normalization of that," he said.
Wegovy, or semaglutide, is part of a class of drugs called GLP-1 agonists. They mimic a hormone that helps reduce food intake and cut appetite. In clinical trials, Wegovy was shown to reduce body weight by around 15%.
The drug is pricy, costing around $1,300 a month, and insurance companies often don't cover it.
Shortages of Wegovy have forced some people in the U.S. to stop taking it, leading them to gain some — or all — of their weight back.
Others have been prescribed Ozempic off-label for weight loss, causing shortages of that drug. Ozempic is the same medication as Wegovy, just in a lower dose, and is approved for use in people with Type 2 diabetes to regulate their blood sugar levels. Both are made by Novo Nordisk.
Doug Langa, head of North American operations at Novo Nordisk, noted on the call the difficulties that patients have had finding the medication, but added that the company now "looks forward" to the drug being more widely available.
Source: https://www.nbcnews.com/health/health-news/supply-weight-loss-drug-wegovy-expected-improve-months-company-says-rcna68572
Related Posts