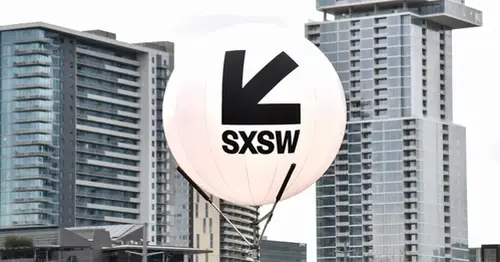 SVB at SXSW: Panic and partying reign
AUSTIN, Texas — It was dinner as usual Thursday night.
Less than 24 hours before its collapse, Silicon Valley Bank, known throughout the tech industry as SVB, hosted a private dinner for a couple dozen people at Perry's Steakhouse & Grille in downtown Austin, a short walk from the convention center that hosts South by Southwest. Jake Chapman, a partner at the defense investment firm Marque Ventures, said he ordered the house specialty pork chop. 
"I was expecting that the SVB folks would address the elephant in the room," Chapman said. "But nobody said a thing about it."
The next day, the Federal Deposit Insurance Corporation took control of SVB, plunging the tech and startup world into the most systemic crisis since the bursting of the dot-com bubble of the late 1990s. Chapman said the bank's demise and uncertain future were top of mind.
"Every conversation starts with the SVB topic," he said.
Silicon Valley Bank did not respond to a request for comment.
SXSW draws tens of thousands of attendees. Long lines for major events and popular installations cornered many of Austin's downtown streets. SXSW-related events dominated the city's downtown and surrounding area.
That party atmosphere was offset by anxious conversations, both onstage and in private. NBC News spoke with four venture investors and entrepreneurs at SXSW to get a sense of how they're handling news of demise of the bank and anticipating a government response that will have a wide-reaching impact on U.S. businesses. Some said there's some good fortune in the timing, happening during a conference connecting startups with funding, while others said it put a damper on things.
"You have two very different camps here," said Greg Kahn, CEO of strategic advisory firm GK Digital Ventures. "You've got one camp that is very concerned on what's happening, and some are catching planes to go home and you have another camp ... which is let's have a fun time and let's have some great parties and receptions and enjoy some music and films."
Much of the tech world sits in something of a state of suspended animation, waiting to see what the FDIC does with SVB — several news outlets reported that an auction is happening on Sunday, while CNBC reported the government has been discussing how to make SVB depositors whole. The bank's role as the primary money mover for many startups raises questions about whether some companies will be able to pay employees and sustain basic business functions.
The bank's demise adds to a broader swing in the tech industry. Rising interest rates, declining venture investments, widespread layoffs and broader economic uncertainty have taken their toll.
Those topics came up at some panels, along with just how much SVB's collapse could hit other sectors.
Offstage conversations, however, almost inevitably turned to the collapse of the bank that has served as something of a circulatory system for many in the tech and startup world. 
"Every conversation I've had in the last 24 hours has mentioned it, whether it's personal or professional," said Sarah Thomas, a venture partner at the investment firm Agetech Capital. 
Peter Pham, co-founder of the Los Angeles-based startup incubator Science, tweeted: "SVB is brought up on every conversation. It's gonna leave a hole for all the events that were sponsored with founders & vcs connecting."
At least one venture capital firm canceled its SXSW programming. Reign Ventures, an early-stage venture capital firm, said Saturday it was no longer holding any events at the conference. Reign did not respond to a request for comment.
"Our sincerest apologies, but due to the SVB collapse yesterday, all Reign Ventures House events at SXSW are cancelled this weekend," the company said on its Twitter account. "We are so sorry to miss you and we are sending our support to all the startups and VCs being impacted during this challenging time."
Kahn said his group texts with people going to SXSW have turned from what bands they're excited to see to trying to figure out how to get employees paid next week. 
"There's been a lot of late-night phone calls," he said. "I've been hearing from some folks that have funds that they've been up for 48 hours trying to communicate with their portfolio companies, and help them where they can in terms of moving their money."
Many of the people who spoke with NBC News said conversations around SVB have changed over the past 24 hours, with panic leading to hope that government intervention will mean limited damage.
"I think initially everyone was just sort of still processing it," said Jessica Quillin, co-founder of content strategy company It's A Working Title. "And there was a certain degree of shock for it as it sort of sunk in."
Thomas, who is also CEO of the staffing company MezTal, said that the tone of conversations has shifted, and that the timing of SXSW was something of a blessing, as it brought many in the industry together in the same place at a particularly crucial time.
"I think that those who were in tears because they couldn't get their money out of their bank have now taken a breath," she said. "They've been discussing opportunities with new partners on how to pay payroll next week."
And for some, SVB wasn't quite as all-encompassing. Mason Hale, CEO of software company Team Topia, said on Twitter the event felt "pretty normal."
"I expected the SVB news to be all that anyone talked about and for parties to feel more like funeral wakes, but that hasn't been the case," he wrote. 
Source: https://www.nbcnews.com/tech/tech-news/svb-sxsw-panic-partying-reign-rcna74559
Related Posts