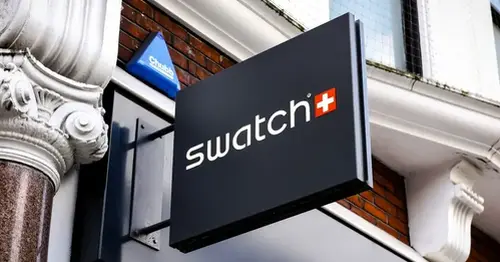 Swiss watchmaker Swatch sues Malaysia for seizure of Pride watches
Swiss watchmaker Swatch Group has filed a lawsuit against the Malaysian government for confiscating rainbow-colored watches that celebrate LGBTQ rights, in an act the company says has damaged its reputation.
Homosexuality is a crime in Muslim-majority Malaysia, and rights groups have warned of growing intolerance against the country's lesbian, gay, bisexual, transgender and queer community.
In May, Malaysian authorities confiscated watches from Swatch's "Pride collection" because of the presence of the letters "LGBTQ" on the watches, the home minister said.
Home ministry officials "illegally" seized 172 watches from 16 outlets, Swatch said in court documents seen by Reuters.
The lawsuit, filed on June 24 at the Kuala Lumpur high court, was first reported on Monday by the Malay Mail, a Malaysian news website.
"Without a doubt, the seized watches did not and are not in any way capable of causing any disruption to public order or morality or any violations of the law," Swatch said in the lawsuit.
The seizure notices served to Swatch described the watches as having elements of or promoting LGBTQ rights and potentially breaching Malaysian law, the company said.
Most of the seized watches, which have a combined retail value of 64,795 ringgit ($14,250.05), did not contain the "LGBTQ" lettering, Swatch said.
Swatch is seeking damages and the return of the watches, saying its ability to do business in the country has been "greatly jeopardised" by the seizures.
Swatch Group said on Monday it does not comment about ongoing legal cases.
Malaysia's home ministry did not immediately respond to a request for comment.
The Kuala Lumpur high court is set to hear the case on July 20.
Malaysia has jailed or caned people for homosexuality. Last year, 18 people were detained at a Halloween party attended by members of the LGBTQ community.
The seizure and lawsuit come ahead of crucial regional polls that will pit Prime Minister Anwar Ibrahim's progressive coalition against a mostly conservative ethnic-Malay, Muslim alliance.
In the run up to the elections, Anwar has again been accused by critics of not doing enough to protect the rights of Muslims in multi-racial, multi-faith Malaysia.
Anwar was imprisoned for sodomy and corruption for nearly a decade, charges he denied and said were politically motivated.
Source: https://www.nbcnews.com/nbc-out/out-news/swiss-watchmaker-swatch-sues-malaysia-seizure-pride-watches-rcna94649
Related Posts