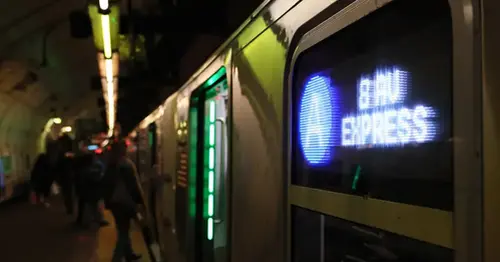 Teen called racial slur and attacked on NYC subway, police say
A Black teenager was attacked on a New York City subway by three people who hurled racial slurs at him, the New York Police Department said.
The beating on Friday was captured on cellphone video and shows a girl grabbing the 15-year-old victim by his shirt and demanding that he walk. The victim appears to struggle as he tries to get away from the girl, the video shows.
At one point, the video shows the victim walking onto the northbound A train at 181 Street and Fort Washington Avenue, but the girl yanks him onto the platform. Someone can be heard in the background yelling the N-word.
The victim is eventually surrounded and pummeled by the three people, the video shows.
"The individuals began making anti-Black statements before striking the victim multiple times about the head and body," the NYPD said in a statement. "As a result, the victim sustained a laceration to his lip, as well as pain and bruising about the body."
The boy was taken by ambulance to the hospital, according to the NYPD. It's not clear what led up to the altercation.
The three individuals, who police said were "unknown" to the victim, apparently fled the scene after the beating. Authorities released their photos Monday on Facebook saying the three people are wanted for assault.
Anyone with information is asked to contact the NYPD's Crime Stoppers unit.
New York City Transit President Richard Davey condemned the attack.
"The video is heartbreaking and disturbing and our hearts are with the young man seemingly being senselessly victimized. No one should be subject to this sort of hateful harassment while they are riding with New York City Transit, and the MTA is fully cooperating with the NYPD in its investigation into the incident," he said.
Source: https://www.nbcnews.com/news/us-news/nyc-teen-attacked-subway-called-racial-slur-police-say-rcna75033
Related Posts