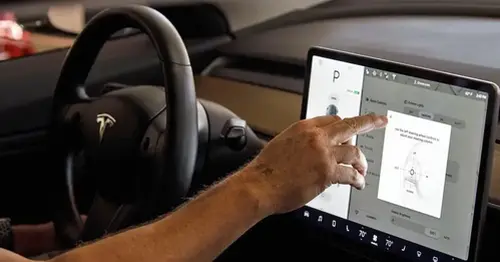 Tesla recalling nearly 363,000 vehicles over 'full self-driving' software that could lead to crashes
Tesla is recalling 362,758 vehicles because a version of its "full self-driving" software may increase the risk of crashes, according to the National Highway Traffic Safety Administration in response to a notice Tesla sent the agency on Wednesday.
According to the recall document, the FSD's "beta" release may cause affected Tesla vehicles to act unsafely around intersections. For example, it said, the software may cause the vehicles to travel "straight through an intersection while in a turn-only lane, [enter] a stop sign-controlled intersection without coming to a complete stop, or [proceed] into an intersection during a steady yellow traffic signal without due caution."
In addition, it said, the system may not respond sufficiently to changes in posted speed limits, "or not adequately account for the driver's adjustment of the vehicle's speed to exceed posted speed limits."
As a remedy, Tesla is releasing a free over-the-air software update to users.
The recall affects 2016-2023 Model S and Model X vehicles; 2017-2023 Model 3 vehicles; and 2020-2023 Model Y vehicles.
The recall comes a week after the National Transportation Safety Board said it found no evidence that Tesla's autopilot driver-assistance feature was engaged at the time of a fatal 2021 crash in Texas.
But Tesla's FSD and autopilot features remain under investigation by the NHTSA. According to Reuters, 830,000 vehicles are under review.
And last month, Tesla revealed in a Securities and Exchange Commission filing that the Justice Department had requested documents related to the features.
A Tesla representative could not be reached for comment.
Source: https://www.nbcnews.com/business/consumer/tesla-recalls-model-s-model-x-model-3-model-y-fsd-software-rcna71048
Related Posts