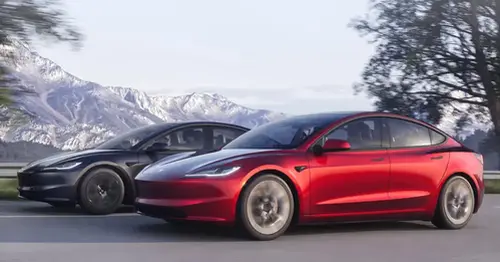 Tesla releases refreshed Model 3 with longer driving range in China
Tesla on Friday unveiled a restyled, made-in-China Model 3 with a longer driving range, the first time the automaker has launched a new model in China ahead of the United States.
The new model, which is being built at Tesla's Shanghai plant, comes with a starting price 12% higher than the previous, base model in China. It will also be exported to other markets in Asia, Europe and the Middle East.
At the same time, Tesla cut the prices for its premium Model S and Model X by between about 14% and 21%, in China and the U.S., its two biggest markets.
Raising the base price on the Model 3, Tesla's top-selling model after the Y, could help protect margins. But the price cuts for its higher-end models underscored the continued pressure EV makers face, especially in China where Tesla sparked a price war with Chinese rivals including industry leader BYD earlier this year.
The new Model 3 is Tesla's first change to its mass-market car line-up since it launched its global best-seller, the Model Y, in 2020.
Tesla did not announce a launch date for the new Model 3 in the U.S. market, where it currently offers discounts of more than $5,000 on some of those vehicles in inventory. The Model 3 is also assembled in Fremont, California.
China-first debut
Tesla plans to debut the latest Model 3 at a trade fair in Beijing on Saturday and some of its new features, including a rear display for back-seat passengers, seemed aimed at Chinese car buyers.
Tesla said the car also has a better acoustic system, a more comfortable interior and additional airbags. Images of the exterior showed small changes that gave the sedan a sleeker front and new headlights.
The new Model 3 also promises a longer driving range. The standard version has a range of 606 km (377 miles) based on China's testing standards. That's about 9% higher than the base model it replaces in China.
Tesla said it had started taking orders and would begin deliveries in China in the fourth quarter. It is also taking orders in other markets where it exports from Shanghai, including Germany, Japan, Malaysia, Australia and New Zealand.
The new Model 3 should sell well outside China where there is less competition in EVs, said Yale Zhang, managing director at Shanghai-based consultancy Automotive Foresight.
"But in China, we have already seen plenty of new models rolling out since the (Shanghai) auto show in April with similar and even better features and lower prices," he added.
Project 'Highland'
Reuters first reported last November that Tesla was developing a revamped Model 3 in a project codenamed "Highland." People involved in the project said it was aimed at cutting production costs and boosting the model's appeal.
Tesla did not give any details about the new Model 3's battery, but a person with knowledge of the features said it was the same lithium-iron-phosphate battery from CATL for the base model.
The higher range is the result of taking weight out and improving the car's profile so it faces less wind resistance, the person added. There was no immediate comment from Tesla about the battery.
In China, the Model 3 competes against BYD's Seal, the Zeekr 001 from Geely, Nio's ET5 and Xpeng's P7i. Xpeng has just announced zero-interest loans and free upgrades for that car.
Tesla said it would also show the new model at the Munich auto show, potentially stealing thunder from German automakers such as Volkswagen and Mercedes. They are expected to announce a slew of new EVs, partly in response to China's fast-shifting market.
In China, the new Model 3 starts at 259,900 yuan ($35,807). In Germany, it starts at 42,990 euros ($46,670). Tesla said it would begin deliveries in Europe in late October.
Source: https://www.nbcnews.com/business/autos/tesla-releases-refreshed-model-3-longer-driving-range-china-rcna102967
Related Posts