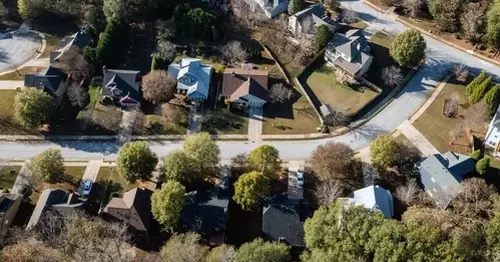 The homeownership gap between Black and white households hits its widest rate in a decade
After briefly spiking amid pandemic lockdowns, the rate of U.S. homeownership has stabilized at approximately 66%, a solid increase from the post-Great-Recession-low of 63% reached in 2016.
Yet over the past decade, the gap in homeownership between Black and white Americans widened to a 10-year high, according to a news release Thursday from the National Association of Realtors (NAR).
From 2011 to 2021, the most recent year cited by the association, the Black American homeownership rate increased less than half of one percentage point, from 43.6% to 44%. For white Americans, the rate climbed approximately 3 percentage points, from about 70% to 72.7%.
That 29% gap represents the largest racial homeownership disparity in 10 years — up from 26% in 2011.
"Unfortunately, the incredible affordability challenges of the last year have hit minority home buyers more than white buyers," Jessica Lautz, NAR deputy chief economist and vice president of research, said in a statement. "Black buyers are more likely to be first-time buyers, who are more sensitive to changes in mortgage interest rates, while White buyers are more likely to have housing equity to rely on as they make a housing trade."
Indeed, measures of affordability have reached their worst levels on record, the result of rising mortgage rates in recent months and surging home prices in the last few years. According to NAR, buyers now need to earn more than $100,000 per year if they want to purchase a median-priced home without going beyond their budget.
Black Americans also continued to have the highest denial rates for mortgage loans among all racial groups, according to Home Mortgage Disclosure Act data cited by NAR. Twenty percent of loan applicants who are Black get denied mortgages, compared with about 11% of white applicants. And 51% of loans for home improvement applied for by Black homeowners are denied.
When comparing the qualifying income to purchase the typical home with the median income of renter households, the National Association of Realtors estimates that while 17% of white renters can currently afford to buy a median-priced home — $467,700 at last measure — only 9% of Black renters nationwide can do the same.
Other racial groups have experienced more substantial gains over the past decade. The rate of homeownership for Asian American households rose nearly 5 percentage points, to an all-time high of 62.8% in 2021. And the rate for Hispanic-American households increased by more than 4 percentage points over the decade, to 50.6%.
A prevailing reason for the underperformance of Black households in terms of homeownership is lower incomes — though it is unlikely the sole explanation. The median Black home-buying household had a median annual income of $80,000, compared with $85,000 for white households.
Meanwhile, 8% of Black homebuyers said they had experienced discrimination in a real estate transaction — the highest rate among racial groups.
Source: https://www.nbcnews.com/business/economy/homeownership-gap-black-white-households-hits-widest-rate-decade-rcna73121
Related Posts