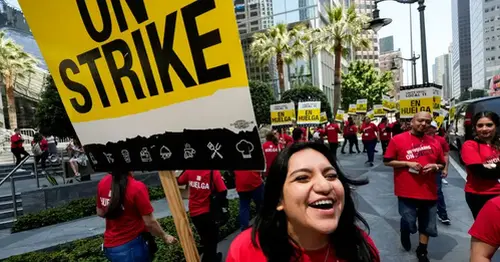 Thousands of Southern California hotel workers begin strike
Just as the July Fourth holiday weekend gets into high gear, thousands of hotel workers in Southern California began striking Sunday morning seeking to negotiate a contract with higher wages and other benefits, according to the union representing the workers.
Members of UNITE HERE Local 11, which says it represents more than 32,000 hospitality workers in Southern California and Arizona, are striking at more than a dozen hotels throughout Los Angeles and Santa Monica after their contract expired just after midnight, according to posts on the union's Twitter page.
Participants include cooks, dishwashers, servers, front desk workers and room attendants, the union said in a news release. A union representative said Friday that the contract covered about 15,000 workers at 65 hotels.
The union's key demands include a $5-an-hour wage increase, access to affordable family health care benefits and stronger workplace protections.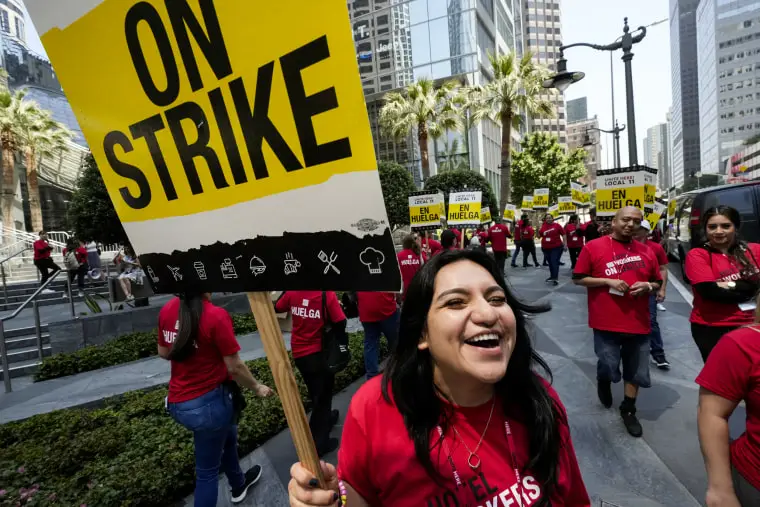 A spokesperson for the union could not immediately be reached Sunday to offer more specific details.
Negotiations began April 20, the local said. Last month, 96% of UNITE HERE Local 11 members voted to authorize the strike.
The union also says that while hotels received billions in federal bailouts during the pandemic and have since bounced back and exceeded pre-pandemic profits, wages have not kept up with rising housing costs. Affordable housing advocates have said skyrocketing rents are fueling homelessness throughout California, where nearly 1 million fewer affordable rental homes are available for extremely low-income renters, according to the National Low Income Housing Coalition.
The union has also said plans for Los Angeles to host the soccer World Cup in 2026 and the Summer Olympics in 2028 could worsen the housing crisis.
In a statement, Kurt Petersen, a co-president of UNITE HERE Local 11, said it was "shameful" that "the hotel negotiators decided to take a four-day holiday instead of negotiating."
The Hotel Association of Los Angeles said in a statement Thursday that hotel management representatives had been "actively engaged in good faith collective bargaining" with the union.
"The hotel community will continue to provide excellent service in welcoming guests to the Los Angeles area as we always do," it added.
And attorneys Keith Grossman and Ken Ballard said in a statement released Friday on behalf of the Coordinated Bargaining Group — the 44 Los Angeles County and Orange County hotels involved in the negotiations — that the union "has shown no desire to engage in productive, good faith negotiations with this group."
The statement also said the Coordinated Bargaining Group proposed wage increases of $2.50 per hour in the first year, rising to a $6.25 hourly increase over the next four years.
The strike comes days after the Westin Bonaventure, the city's biggest hotel, came to an agreement affecting its 600 workers, who will receive increased wages and pension contributions, among other benefits, the union said.
It is also happening during the Anime Expo, a four-day event focused on Japanese pop culture taking place at the Los Angeles Convention Center that attracts 100,000 people from around the world, the Los Angeles Times reported.
Source: https://www.nbcnews.com/business/business-news/thousands-southern-california-hotel-workers-begin-strike-rcna92256
Related Posts