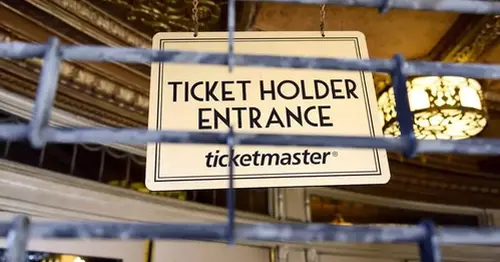 Ticketmaster's 'Kafkaesque' arbitration process is rigged, lawyers say
It's baked into each and every Ticketmaster purchase: Customers scrambling to buy tickets to the most sought-after concerts, sports games or other live events must first check a box agreeing to the company's "Terms of Use."
If a buyer took the time to click through the hyperlink that accompanies the box, they'd see what has become Ticketmaster's tried-and-true defense to lawsuits: boilerplate legalese requiring customers with ticketing beefs to forgo their rights to sue and instead seek to resolve their claims through private arbitration.
Ticketmaster's arbitration clause — deemed enforceable under a federal appeals court ruling in February — repeatedly has been used to fend off scores of potential class-action lawsuits against the ticket giant and its corporate parent, the events promoter Live Nation.
But in a recent court filing, four customers trying to keep their class-action case alive allege the companies have recently rigged the arbitration process against ticket buyers.
The argument, filed by a California man, an Ohio woman and two Florida residents, claims Ticketmaster quietly switched last year to an all-virtual, expedited arbitration process that amounts to a "Kafkaesque procedure" for customers.
The process, handled by a startup, New Era ADR, stifles customers' due process rights by restricting evidence, prohibiting discovery and allowing arbitrators to rule on multiple customers' claims at once without even holding hearings, lawyers for the plaintiffs allege.
The changes — made amid mounting legal complaints — are so "unconscionable" that the Federal Arbitration Act, which protects valid arbitration procedures, shouldn't apply, they claim. 
If it's successful, the plaintiffs' argument would advance their case — Skot Heckman, et al v. Live Nation — toward getting class-action status, potentially allowing hundreds of other fed-up ticket customers to join the lawsuit. 
It also could provide a blueprint to get around Ticketmaster's seemingly ironclad arbitration clause for other pending class-action complaints filed by customers who say they've been wronged by what they allege are Ticketmaster's monopolistic tactics, including a recent crop of cases filed by dozens of miffed Taylor Swift fans.
"Ticketmaster is a company that's been able to keep itself, if not bulletproof, largely unscathed," said Adam Wolfson, an Los Angeles-based lawyer representing the customers. "They have a very, very tough arbitration clause. That's the nut that people have been trying to crack for years."
They include Wolfson's law firm, whose clients in a different case lost a key ruling in February when the 9th U.S. Circuit Court of Appeals deemed Ticketmaster's arbitration clause valid under the federal arbitration law and upheld the dismissal of the 2020 class-action suit.
Live Nation and Ticketmaster were using a different arbitration firm to handle disputes covered under that case. But the companies, which didn't respond to requests for comment, said in court filings that "there is nothing about New Era that's remotely sub-standard for the industry, let alone unconscionable."
Companies often seek to use arbitration to resolve disputes more quickly and cheaply than through litigation, which can lead to lengthy and costly jury trials.
Live Nation's lawyers called the Heckman plaintiffs' argument an "improbable gambit" that's "wasting the Court's time."
A lawyer for New Era ADR, a Chicago-based startup that launched its virtual arbitration business last year amid the Covid pandemic, separately called the plaintiffs' claims "misleading and incorrect" in an email. 
A hearing is set for May in federal court in Los Angeles.
Live Nation, the world's largest events promoter, and Ticketmaster, its largest ticketing service, were allowed to merge in 2010 despite vocal objections by some artists, venue operators, consumer groups and others. The Justice Department approved the move under a consent decree to prevent anti-competitive behavior, including prohibiting Live Nation from retaliating against events venues for using ticketers other than Ticketmaster.
The plaintiffs' argument is the latest brought by fed-up concertgoers and other customers who've tried — and mostly failed — to take Ticketmaster to trial despite the arbitration clause. 
Such lawsuits generally contend that Live Nation violates antitrust and consumer protection laws by forcing the country's biggest venues into contracts to host premier live events that exclusively use Ticketmaster for ticket sales. Then, after having eliminated the competition, the companies impose "supracompetitive fees" on ticket prices to reap huge profits from customers who have no other choice but to pay them to see their favorite artists or teams perform, the suits say.
The latest suits include scores of claims stemming from a ticketing fiasco in November, when a record 3.5 million people registered for Ticketmaster's presales for tickets to Swift's "Eras" concert tour. High demand during presales purportedly reserved for "verified" fans crashed Ticketmaster's website and left an "insufficient remaining ticket inventory," the company said. That led Ticketmaster to cancel ticket sales to the general public later. 
Ticketmaster executives later acknowledged that a "staggering" number of bots and scalpers had infiltrated the "exclusive" presales events. Only 1.5 million fans nationwide managed to buy tickets, while 2 million more were waitlisted. 
Tens of thousands of fans who were unable to secure tickets ended up buying scalped tickets at double the original prices or more in the secondary resale market, a growing part of which Ticketmaster also controls. Many of those fans have sued Ticketmaster, claiming the fiasco was an orchestrated scheme by Ticketmaster to squeeze every last dollar from a captive public.
Scrutiny of Live Nation and Ticketmaster has intensified in recent months since the Swift debacle, which renewed calls among some consumer advocates and members of Congress for further investigation of the companies' practices and a re-examination of their 2010 merger. 
Already, the Justice Department had found the companies had repeatedly violated the terms of the 10-year consent decree to prevent an anti-competitive ticketing monopoly. That led a federal judge in 2020 to extend the decree by 5½ more years and impose $10 million in fines and other costs against Live Nation.
Live Nation's CEO, Michael Rapino, said on the company's annual earnings call in February that company officials "remain in constant conversations with the DOJ monitors and do not believe there have been any violations."
Meanwhile, the company continues to stand behind Ticketmaster's arbitration clause to defend against the mounting lawsuits.
As in the Heckman case, Live Nation's lawyers already have filed a motion in one of the Swift fans' lawsuits contending the company can't be sued because those customers already agreed to privately arbitrate claims out of court.
But Imre Szalai, a Loyola University New Orleans law professor and expert on arbitration law, said Ticketmaster's shift to using the New Era arbitration procedures shouldn't prevent a class-action antitrust lawsuit from going forward.
Szalai, who is an arbitrator and has written books about the Federal Arbitration Act, said arbitration procedures are good for resolving simple disputes but not for evaluating complex antitrust claims. That's especially true of New Era's sped-up process, which restricts evidence, he said.
Source: https://www.nbcnews.com/news/us-news/ticketmaster-live-nation-arbitration-process-rigged-lawyers-say-rcna78172
Related Posts