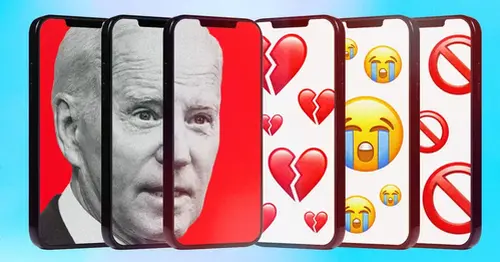 TikTok ban would be 'a slap in the face' to young Democratic voters, activists warn
WASHINGTON — In the nation's capital, the debate over banning TikTok has largely focused on whether the app's Chinese parent company poses a security threat to Americans.
But behind closed doors, Democrats are also being forced to weigh whether blocking the popular video platform could come with heavy political costs.
In 2020, Aidan Kohn-Murphy used TikTok to rally support for Joe Biden. Now, he's trying to use the platform to stop Biden from killing it. 
"I'm not defending TikTok as a company, I'm defending my entire generation," said the 19-year-old Harvard freshman who, as a high-schooler during the 2020 campaign founded a group called TikTok for Biden. It has since changed its name to Gen Z for Change and formally incorporated as a political nonprofit and, according to Kohn-Murphy, it now includes 500 creators with a combined 500 million followers on multiple platforms.
"If they went ahead with banning TikTok, it would feel like a slap in the face to a lot of young Americans," he said. "Democrats don't understand the political consequences this would have."
TikTok is 'cocaine,' 'programmed to be weaponized,' former Trump official says
March 21, 2023
06:15
As the Biden administration considers banning the Chinese-owned short-form video platform with some 150 million U.S. users, young progressive activists and the older Democratic strategists trying to reach them are worried that the officials making the decision — very few of whom likely regularly use TikTok — have no idea how central the platform is to the lives of many in a generation that is just coming of age politically.
Gen Z — the teens and 20-somethings born after 1996 — skew overwhelmingly liberal and Democratic. Their stronger-than-expected turnout in the 2022 midterms was partially credited with salvaging what otherwise might have been a disastrous election for the Democratic Party.
They're still a small portion of the electorate — just 9% in 2022, according to NBC News exit polls — but their ranks are growing every year as more turn 18. And not all members of the generation use the app, but 1-in-5 say they get political information from TikTok, the same portion who cited teachers and classmates as information sources, according to a recent survey.
Some worry that if Washington bans Gen Z's favorite app for reasons that most are likely unfamiliar with — accusations that the app is collecting user's location data and sharing it with the Chinese government — it might leave a lasting political mark on an entire generation, depressing turnout, increasing apathy and shaping their view of the role of the federal government.
"Banning TikTok? I mean, are you trying to engage young voters or not? What are we doing here?" Rep. Jamaal Bowman, D-N.Y., a former middle school principal and member of the progressive "squad" said in an interview. "They will absolutely stay at home. There's no question about that."
"I think we've sort of reached two conclusions here. The first is that the politics of this are very rough. And the second is that all of that has to be set aside because of nonhyperbolic national security concerns," said another Democratic member of Congress who has used the platform but supports a potential ban and who requested anonymity to speak candidly. "I don't know that there's a balance to be struck. I think there might just be a political price to be paid."
Even Biden's commerce secretary, Gina Raimondo, acknowledged the danger in a candid interview with Bloomberg Businessweek. "The politician in me thinks you're gonna literally lose every voter under 35, forever," she said, before going to explain why a ban may still be necessary.
"The politician in me thinks you're gonna literally lose every voter under 35, forever."
— Commerce SECRETARY Gina Raimondo
Democrat campaign operatives have increasingly seen the value of using the platform to reach young people — including those working for Biden, who have on multiple occasions invited young TikTokers to the White House to help push their message on Covid vaccines, the War in Ukraine and their climate goals.
It can be hard for older Americans — even older millennials who came of age with Facebook, but before Twitter — to appreciate the centrality of TikTok in the lives and identity of Gen Z. 
About 62% of TikTok U.S. users are under 30 and market research shows many young people turn to TikTok to look up information even before a Google search. A recent Quinnipiac poll showed that while 49% of all Americans support banning TikTok, 63% of 18-to-34 year-olds oppose the ban. 
John Della Volpe, a pollster who specializes in young voters and authored "Fight: How Gen Z is Channeling Their Fear," compares the platform's significance to Seinfeld for Gen X. And he said the data privacy concerns driving the potential TikTok ban are not as salient to young people. 
"They kind of feel like the cat's already out of the bag on their data," he said. "Disrupting or censoring one of Gen Z's main entertainment outlets without clearly communicating the personal and national security risks would meet a certain backlash."
Kurt Bardella, a Republican-turned-Democratic strategist who also works with entertainers, just returned from a country music industry convention in Nashville where he was surprised to find that even stars who broke through on TikTok were unaware of its potentially imminent demise.
"I asked one of the artists who has done very well on TikTok if he had a plan B and the artist had no idea what I was talking about. And that was very illuminating to me that people whose livelihood depend on this had no idea," he said. "I imagine there's a lot of young people, frankly, who have no idea that the cord could be unplugged any day or any week now. I think it will come as a massive shock."
"It could very well be their first foray into politics for many of them and their first experience with how politics directly impacts their life," he added.
On the other side of the issue, Sen. Mark Warner, D-Va., the chair of the Senate Intelligence Committee, said he worries about China's ability to use TikTok "for content manipulation or propaganda," particularly with young people, noting that Chinese children are exposed to entirely different types of content on the app than Americans. 
When asked about Raimondo's remarks, Warner acknowledged that there is "a political reality" but added that if TikTok goes away, he thinks "the market will create an alternative" — one that isn't ultimately "controlled by an authoritarian regime."
Ioana Literat, a professor at Columbia University's Teachers College, has been studying young people on TikTok since before it was TikTok, when the app was called Music.ly, and even one of the biggest political hashtags during the 2016 election had only 1,600 videos.
Since then, the app has exploded in popularity and become "undeniably the go-to place for young people today" and the meeting place for an unusually cohesive generational community.
"It's become inextricably linked to Gen Z culture. It's almost synonymous with Gen Z culture," said Literat. "There's such a strong sense of generational identity on TikTok and they're self-consciously painting their generational self-portrait in real time. There are tons of videos that in effect say, 'GenZ is like this,' 'Gen Z is not like that.'"
The generational identity forged on TikTok values political activism and expression, Literat said, calling the platform "such an important political sandbox" for young people in addition to being an effective way to organize them. 
Literat is unsure that GenZ TikTok users will migrate en masse to another platform, given their enmeshment in the platform and its vaunted algorithm that, unlike Facebook or Instagram's, spotlights content from unknown creators that can turn students into stars overnight.
"Young people see politics personally," she said. "Taking away from them this platform that is so important in their personal lives will further tap into their personal view of politics and I don't think they will take it lightly."
Victoria Hammett, a 24-year-old progressive TikToker and abortion rights activist, said political creators want new rules applied to all social media platforms, not just TikTok. "By banning TikTok, we would just be allowing Meta to further monopolize this space," she said of Facebook and Instagram's parent company.
Still, Democratic strategist Andrew Feldman said banning the app may well be worth the political cost — especially since polls show Gen Z voters overwhelmingly agree with Democrats on nearly every issue. 
"The question here is what price are we willing to pay to put up with TikTok?" he said. "Yes, absolutely this is a political challenge, because this is Gen Z's favorite social media platform. But at the same time, there's a real cost here [to letting the app continue as is] and Democrats need to have a moral compass."
Source: https://www.nbcnews.com/politics/joe-biden/tiktok-ban-slap-face-young-democratic-voters-activists-warn-rcna76142
Related Posts