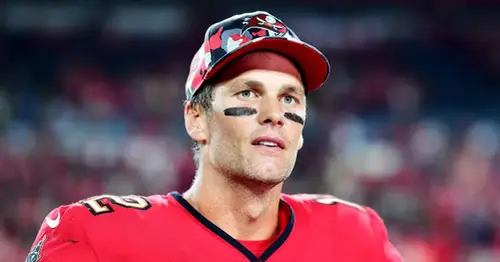 Tom Brady becomes minority owner of Birmingham City Football Club
LONDON — Legendary NFL quarterback Tom Brady is trading one football for another, taking on a new role with a struggling soccer team that will see the former New England star head to England's second city.
Birmingham City Football Club announced early Thursday that Brady, 46, would be joining the club as a minority owner and adviser.
Investing alongside hedge fund manager Tom Wagner, who purchased a more than 45% stake in the club in July, Brady will become chairman of the team's advisory board and will work directly with the club's leadership team, according to a news release.
"Birmingham City is an iconic club with so much history and passion and to be part of the Blues is a real honor for me," Brady said in a statement shared by the club. "BCFC is built on teamwork and determination and I'm excited to work alongside the board, management and players to make our Second City club second to none."
"I've been part of some amazing teams in my day, and I'm looking forward to applying my perspective to create that same success here in Birmingham," Brady said.
The partnership comes after Brady announced in February, for the second time, that he was retiring — but this time "for good."
The star quarterback announced the news in a video on Twitter, which has since rebranded to "X." He had initially announced his retirement in February 2022, but his time off the field lasted just 40 days before he reversed the decision the following month and returned to the Tampa Bay Buccaneers.
This time, his retirement plans appear to have stuck, with the NFL legend turning his sights to a different kind of football field.
The seven-time Super Bowl champion could be taking on a serious challenge with his Birmingham investment.
The club plays in the second tier of English soccer, the Championship, and finished 17th last season. The team has not played in the top flight since being relegated from the Premier League in 2011, though Brady's arrival may only add to a growing optimism around the club after years of financial struggles.
In a video shared by Birmingham City, Brady acknowledges the team's struggles, saying he likes "being the underdog."
"The road's been long for Birmingham, but these fans have never stopped believing," he says.
The football champion also acknowledges he has a lot to learn in his bid to help the team make a comeback.
"Maybe you're asking, 'what do you know about English football, Tom?'" Brady says in the video. "Well, let's just say I've got a lot to learn."
"But I do know a few things about winning. I think they might translate pretty well," Brady says.
Birmingham City said in its news release that Brady would be applying his "extensive leadership experience and expertise across several components of the Club, including working alongside the sports science department to advise on health, nutrition, wellness, and recovery systems and programs."
"In addition, Brady will work closely with the Board and the management team on global marketing efforts and the identification of new commercial partnership opportunities for the Club," it said.
Wagner, who is chairman of the club's board said Brady joining the team was a "statement of intent."
"We are setting the bar at world class," he said.
It was not immediately clear whether the development would have any impact on Brady's deal to work as a broadcaster on Fox's NFL coverage. He recently said he was "looking forward" to starting that role in 2024.
Brady is just the latest American celebrity to lend their star power to an American corporate investment in European soccer.
Source: https://www.nbcnews.com/news/us-news/tom-brady-birmingham-city-minority-owner-rcna97904
Related Posts