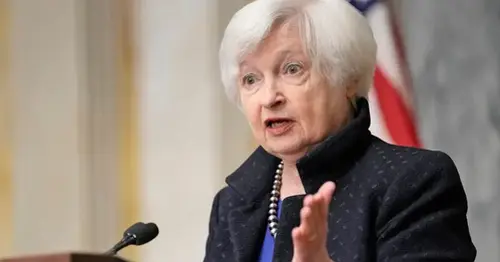 Treasury says the U.S. risks breaching debt ceiling on June 1
WASHINGTON — The U.S. is still projected to breach the debt ceiling as early as June 1, Treasury Secretary Janet Yellen reiterated in a new letter to Congress on Monday afternoon.
Yellen's confirmation of the deadline means Congress has less than three weeks to act or risk a first-ever debt default, which carries grave economic consequences and could tip the country into a recession.
"With additional information now available, I am writing to note that we still estimate that Treasury will likely no longer be able to satisfy all of the government's obligations if Congress has not acted to raise or suspend the debt limit by early June, and potentially as early as June 1," Yellen wrote in the letter.
Yellen's letter comes one day before an expected meeting between President Joe Biden and Speaker Kevin McCarthy about how to avert an unprecedented — and economically disastrous — debt default. Biden and the Democratic-led Senate have been at odds with the Republican-controlled House on how to tackle the issue.
Status of debt ceiling talks 'depends on who you talk to'
May 12, 2023
02:58
McCarthy sounded skeptical on Monday morning. "I still think we're far apart" on debt ceiling negotiations, he said after staff met over the weekend.
"It doesn't seem to me yet that they want a deal," he said, referring to Democrats and the White House. "It seems like they want to look like they're in a meeting. … They're not talking anything serious."
It remains unclear what an agreement would look like. The two parties haven't yet established the parameters of the negotiations, though there has been consideration of linking the debt limit to a budget negotiation to satisfy demands from both parties. One hurdle is how to allocate any potential spending cuts between the military and non-defense portions of the federal budget.
"It never is good to characterize a negotiation in the middle of the negotiation," Biden told reporters on Sunday. "I remain optimistic because I'm a congenital optimist, but I really think there's a desire on their part as well as ours to reach agreement. I think we'll be able to do it."
The U.S. hit the statutory debt limit in January and has since been using "extraordinary measures" to pay the bills. The Treasury Department has consistently given a timeline of early June for Congress to act or risk breaching the debt ceiling. The specific date has been adjusted a few times along the way based on tax receipts, as is customary when setting the deadline.
"What worries me is that [Senate Majority Leader] Chuck Schumer, Joe Biden, even [Senate Minority Leader] Mitch McConnell have said that if we can't get an agreement in the next few weeks, default is off the table," Sen. Chris Murphy, D-Conn., said Sunday on NBC's "Meet The Press." "The only leader who says we are going to light the American economy on fire if we can't get an agreement in the next ten-to-14 days is Kevin McCarthy."
Schumer said Monday that default should be off the table.
"It would be a catastrophe. No one should play with it. No one should flirt with it. No one should hold it hostage," he said on the Senate floor. "The consequences of default are just awful."
Source: https://www.nbcnews.com/politics/white-house/treasury-says-us-risks-breaching-debt-ceiling-june-1-rcna84523
Related Posts