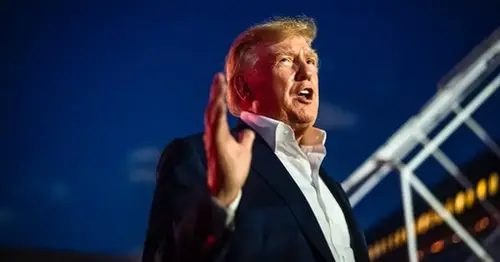 Trump's 2024 campaign blends new policies with old grievances
Toughen penalties for teens who break the law. Order the direct election of school principals. Build 10 new cities on federal land — and tent cities for the homeless.
Former President Donald Trump is firing a fusillade of policy proposals into the GOP presidential primary. The effort to one-up rivals in the early stages of the race may help Trump shift focus from his mounting legal woes and the failings of high-profile candidates he backed in key midterm races. 
But the main purpose, some close advisers to Trump say, is to offer primary voters a forward-looking vision that emphasizes what he plans to do — a notable shift from his 2020 campaign, which centered on "promises made, promises kept," and a response to conservatives who worry he's too focused on the past. Dubbed "Agenda47," Trump's developing platform mixes new, recast and recycled planks — some of which simply didn't get much attention in the last election — to give his campaign a fresher look.
An outside adviser who speaks regularly with Trump said the former president's agenda on education is noticeably new and different, along with "a few other issues that are at a boiling point." The person also stressed that the first campaign is Trump's model.
"It's similar to 2016," the adviser said. "He doesn't really revisit 2020 [campaign strategy]. I can tell you that."
Trump's proposed agenda also serves to counter Ron DeSantis' still-unannounced but widely expected presidential campaign. As Florida's governor with a supermajority in the state legislature, DeSantis, who polls as Trump's most competitive rival for the GOP presidential nomination, has been able to garner attention and gain favor in conservative circles in part through advancing a number of culture war-focused proposals, including legislation to restrict teaching on race and gender.
"President Trump has a lot of unfinished business," Jason Miller, a senior campaign adviser, said. "He has a very clear vision for what he wants to do for a second term."
Trump slams Ron DeSantis in Iowa amid ongoing legal troubles
March 14, 2023
03:55
Two outside organizations that are influential with the Trump campaign's policy generation are the America First Policy Institute — seen as a recruiting hub for staffers in a future Trump administration — and the Heritage Foundation, a longstanding conservative think tank that has taken on a more Trumpian posture in recent years.
A top Trump adviser said the agenda rollout has worked to counteract the diminished megaphone at his disposal. As a result of his ouster from office, fixation on his defeat and role in the Jan. 6 attack on the Capitol — which led to the suspension of his social media accounts and a lessening in his coverage, including on Fox News — Trump has struggled to generate the kind of attention he received during his past campaigns, even as the vast majority of polls show him to be the GOP's presidential front-runner.
"The problem is his megaphone is not as large as it once was. And that's a continuing challenge," this person said, adding that through a combination of email blasts to supporters and media coverage, they've noticed primary voters have become more familiar with his plans for the future. "It's most decidedly having an impact."
Many of the proposals seek to plant a flag in culture war battles that rile up social conservatives or speak to education and crime-focused voters who are dismayed by the post-Covid landscape. Trump has called for overhauling federal standards for disciplining minors, punishing doctors who provide gender-affirming care and barring any federal agency from promoting "the concept of sex and gender transition at any age" or using "misinformation" and "disinformation" when describing domestic speech.
While he's also pushed to institute universal baseline tariffs and phase out all imports of essential goods from China, perhaps the most curious proposals were contained in his "Quantum Leap" agenda, in which Trump says as president he would hold a contest to charter as many as 10 new cities on federal land, invest in vertical takeoff-and-landing vehicles and send cash to new parents.
"I don't think they've got polling on how this plays politically, but it sounds like a Trump thing," the outside adviser said of his "Quantum Leap" platform. "It's a good idea. If I were DeSantis, I would just say, 'Hey, Florida is the freedom city, Florida's one big freedom city.'"
One of the reasons he lost in 2020 was that he didn't get people excited about what a second term could look like.
GOP strategist Alex Conant
While some of Trump's proposals would require merely the stroke of a pen, many would need more buy-in and likely face staunch opposition from Democrats and some Republicans. Other policies, including a portion of his education platform, traditionally fall under the purview of state and local governments. 
Much of Trump's appeal has always been how he sells his ideas. After all, 2016 Democratic presidential nominee Hillary Clinton had plenty of detailed policy proposals that failed to catch fire. Trump didn't just talk about immigration, he created a "build the wall" brand. Rather than get into the weeds of how he wanted to reform the government, Trump pledged to "drain the swamp." And much of his success with this forward-looking agenda may, again, be whether he's able to make his ideas marketable. 
Terry Sullivan, who was Sen. Marco Rubio's 2016 presidential campaign manager, said more so than the policy rollout, he sees the biggest difference between Trump's current campaign and his prior efforts is an increased emphasis on holding smaller events and doing more traditional retail politicking in early states.
"Because is what he's rolling out now really policy?" Sullivan said. "I mean, there's some random crazy ideas, but that's kind of what he did before. You know, 'I'm going to build a wall and make Mexico pay for it.' That was a policy idea. So I don't know that that's that different."
As was the case during past runs, Trump has not stayed laser-focused on his plans. During a speech billed as the release of his education platform before more than 2,000 supporters in Davenport, Iowa, on Monday, Trump spoke for more than 70 minutes before even getting to his education proposals. Those included "breaking up" the federal Department of Education, pushing for the direct election of school principals and pledging to "immediately sign a new executive order to cut federal funding for any school that's pushing critical race theory, transgender and any other inappropriate racial, sexual or political content on our children."
His personal grievances have not been brushed aside, either. Trump has continued to promote the false notion that the 2020 election was wrongly decided, and just last week he called for those imprisoned because of the Jan. 6 attack to be "freed" while insisting members of Congress be tried for "treason." At this month's Conservative Political Action Conference, Trump pledged to be "retribution" for "those who have been wronged and betrayed" should he win next fall. 
Still, Republicans say they see Trump's rollout benefitting him at a time when his biggest rival still isn't even really running, and only a handful of candidates, most of whom are generating little traction in the polls, have announced campaigns.
"One of the reasons he lost in 2020 was that he didn't get people excited about what a second term could look like," Alex Conant, communications director for Rubio's 2016 presidential campaign, said. "He's probably learned from that experience and is trying to go back to what worked so well for him in 2016 where you had a pretty well-defined agenda for what he'd do. More tariffs, tax reform, conservative judges, immigration restrictions."
"If he's going to win this time," Conant added, "it needs to be about more than relitigating 2020." 
One Senate Republican aide said they personally enjoyed Trump's "Quantum Leap" proposals but said they were unsure what the impact of the broader agenda will have on candidates running down-ballot, should Trump win the nomination.
"I think it's working," this person said of the agenda shoring up Trump's standing with conservatives. "Is it helpful for our candidates? I don't know. Is it helpful for him? I think so."
An area where the agenda is proving helpful is in calming the simmering tensions between Trump and Fox News, where top executives and hosts strongly criticized the former president internally and called for the network to pivot away from him after the 2020 election, documents released as part of Dominion Voting Systems' $1.6 billion defamation lawsuit against Fox showed.
One such host was Tucker Carlson, the highest-rated anchor of the network's prime-time opinion lineup. In text messages just days before a pro-Trump mob ransacked the Capitol, Carlson said of Trump, "I hate him passionately," adding, "We're all pretending we've got a lot to show for it, because admitting what a disaster it's been is too tough to digest. But come on. There isn't really an upside to Trump."
A day after those revelations were made public, Carlson took to his show to praise Trump — for his policy agenda.
Source: https://www.nbcnews.com/politics/donald-trump/trumps-2024-campaign-blends-new-policies-old-grievances-rcna75095
Related Posts