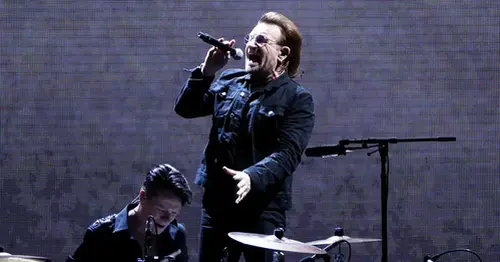 U2 Las Vegas residency: Hundreds of people were sold tickets with obstructed screen views
Hundreds of people who bought tickets for U2's Las Vegas residency are being offered refunds after learning their seats had obstructed views of the event venue's screen.
Show organizers realized during a production review that an overhang in the new, $2 billion Sphere at The Venetian Resort's first level would limit the view of the concert's screen for some attendees. A source familiar with the issue said it affected about 4% of the venue's approximately 17,500 seats.
In addition to refunds, affected customers are also being offered access to a presale for December seats with full views of the band, the stage and the screen.
"As soon as we realized there was an issue, we worked closely with Event Organizers to reach the affected ticketholders with several make good options," a spokesperson for Sphere Entertainment Co., which owns Sphere, said in a statement. "We look forward to Sphere's opening with U2 and their incredible run of shows they have planned for fans this Fall."
One fan, Piotr Hryszkiewicz, said he paid $501.35 per ticket to see the band only to learn he would be seated in the obstructed area. In an email, Hryszkiewicz said he opted for a refund and called the situation "a s--- show."
"I get it, new venue, still being build etc., but seriously...there should be enough competent people to ensure it runs smoothly," he wrote.
According to Sphere's website, tickets for U2's residency started at $140, reflecting all-in pricing, with remaining tickets now starting at $550.
The band's residency, the first musical performance to take place at Sphere, has been years in the making. Construction on the venue has been underway for five years. According to Rolling Stone, U2 first heard about Sphere "a little over two years ago" and the band had been top-of-mind to inaugurate the venue.
Unlike many traditional arenas, the dome-shaped Sphere is specially designed for music acts.
Source: https://www.nbcnews.com/business/business-news/u2-las-vegas-residency-hundreds-people-sold-tickets-obstructed-screen-rcna84853
Related Posts