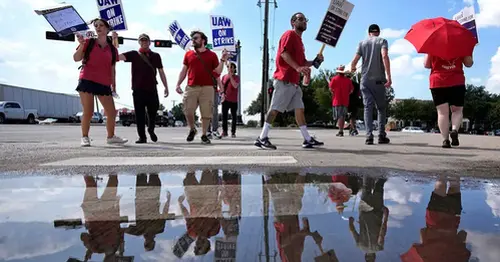 UAW new strike locations announced, union president reveals progress in contract talks
United Auto Workers President Shawn Fain called for 7,000 more employees of Ford and General Motors to go on strike at noon ET Friday.
He said union members at Ford's Chicago assembly plant and GM's Lansing Delta Township assembly plant will walk off the job.
"Sadly, despite our willingness to bargain, Ford and GM have refused to make meaningful progress at the table," Fain said Friday.
Stellantis, the third member of Detroit's Big Three, was spared additional strikes this week. Fain said that reflected recent progress in contract talks between the UAW and the company that builds Jeep, Chrysler and Dodge vehicles.
The latest expansion will mean that about 25,000 of the UAW's 146,000 members will be on strike as the walkout continues.
Fain started a Facebook Live broadcast almost 30 minutes past its scheduled 10 a.m. start time. He said that was because of productive talks with Stellantis on issues including a cost-of-living allowance and the right to strike over plant closures.
He said talks are continuing with all three companies.
In response to the latest walkout announcement, Gerald Johnson, executive vice president for global manufacturing at GM, said in a statement that "calling more strikes is just for the headlines, not real progress."
"We still have not received a comprehensive counteroffer from UAW leadership to our latest proposal made on September 21," he said, adding: "The number of people negatively impacted by these strikes is growing and includes our customers who buy and love the products we build."
In an emailed statement, Ford said it has offered a record contract for its employees, and that "The UAW is holding up the deal primarily over battery plants that will not come online for another two to three years."
Ford is among a number of automakers that have pivoted their businesses toward mass producing electric cars and trucks in addition to the battery components that power the vehicles.
The UAW disputed Ford's characterization, with Fain accusing Ford CEO Jim Farley of "lying" and that the two parties are "far apart on core economic proposals like retirement security and post-retirement healthcare, as well as job security in this EV transition."
This is the second expansion of the strike since it began two weeks ago. In the first phase, workers struck at one manufacturing facility belonging to each company. In the second, workers walked off the job at dozens of distribution centers belonging to GM and Stellantis.
Fain said Ford was spared last week because of progress in talks with that company.
The move comes three days after President Joe Biden appeared alongside striking UAW members in Wayne County, Michigan. Biden was invited by Fain, and he became the first president to appear on a picket line.
Major demands for the UAW in the strike include a 40% increase in pay over four years, as well as cost-of-living adjustments; greater retirement benefits including pensions, and full pay for a workweek that would be cut to 32 hours from 40.
The automakers have offered record pay increases of about 20%, as well as bonuses and other benefits and the retention of the union's platinum health care.
The UAW is employing a strategy of announcing targeted strikes with just a few hours' notice. It's focusing on key plants that cause other facilities to stop production because of a lack of parts, and it's trying to goad the companies into further concessions by sparing some of them from additional strikes when they made better offers.
Meanwhile the Big Three have laid off several thousand workers at plants affected by the strikes.
Last Wednesday, General Motors said it idled a manufacturing plant in Kansas, and laid off almost all of the approximately 2,000 people working there.
The automaker said in its announcement that there was no work available for most of the people at the Fairfax assembly plant because workers at another GM facility went on strike Sept. 14.
Additionally, the company said, it could not provide supplemental unemployment benefits "due to the specific circumstances of this situation."
Source: https://www.nbcnews.com/business/business-news/uaw-new-strike-locations-announced-gm-ford-stellantis-auto-plants-rcna118059
Related Posts