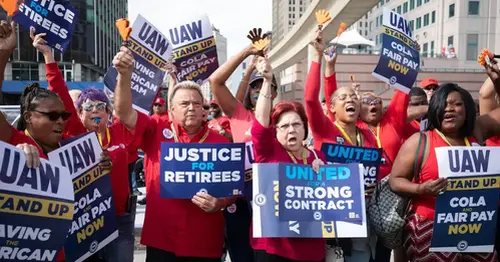 UAW will strike more plants if 'serious progress' isn't made by noon Friday
DETROIT — The United Auto Workers union will announce additional strikes at General Motors, Ford Motor and Stellantis plants if the sides don't make "serious progress" in negotiations by noon ET Friday, UAW President Shawn Fain announced Monday night.
The timing of the additional plants would come just over a week after the union announced targeted strikes at assembly plants for each of the "Big Three" Detroit automakers, sending about 12,700 workers to picket lines.
"Autoworkers have waited long enough to make things right at the Big Three. We're not waiting around, and we're not messing around. So, noon on Friday, September 22nd is a new deadline," Fain said in a video released online by the union.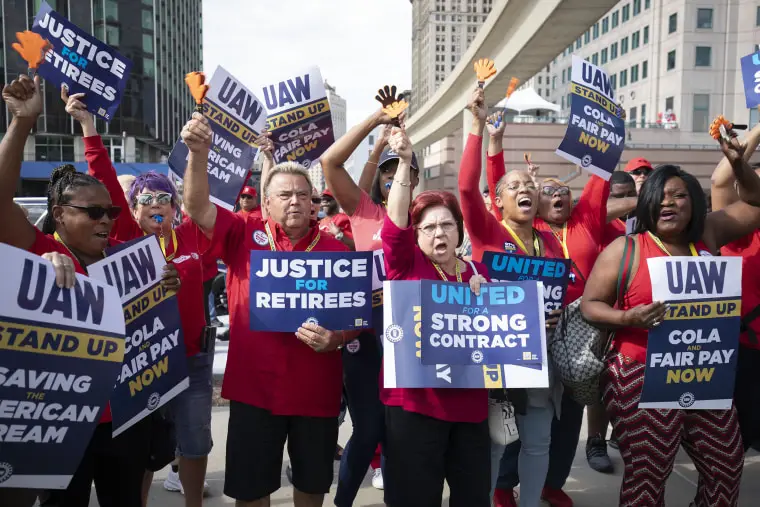 Fain previously said the union planned to increase the work stoppages, based on how negotiations with the companies were going. The announcement follows the union meeting with each of the automakers since the targeted strikes began Friday.
Unlike the original contract deadlines, Fain did not say tentative agreements needed to be reached at the companies to avoid additional strikes, just "serious progress." A union spokesman did not immediately respond for comment regarding what defines that aside from a tentative deal.
Currently on strike are workers from GM's midsize truck and full-size van plant in Wentzville, Missouri; Ford's Ranger midsize pickup and Bronco SUV plant in Wayne, Michigan; and Stellantis' Jeep Wrangler and Gladiator plant in Toledo, Ohio.
The union selected the plants as part of targeted strike plans, as Fain and UAW leaders unconventionally negotiate with all three automakers at once. It's calling the work stoppages "stand-up strikes," a nod to historic "sit-down" strikes by the UAW in the 1930s.
"The 'Stand Up Strike' is a new approach to striking. Instead of striking all plants all at once, select locals have been called on to 'Stand Up'
and walk out on strike. If the automakers fail to make progress in negotiations and bargain in good faith going forward, more locals will be called on to Stand Up and join the strike," Fain said Monday.
Targeted strikes typically focus on key plants that can then cause other plants to cease production due to a lack of parts. They are not unprecedented, but the way the union is conducting them is not typical.
Ford and Stellantis did not immediately respond for comment on the new "deadline." GM released a general statement on the talks: "We're continuing to bargain in good faith with the union to reach an agreement as quickly as possible for the benefit of our team members, customers, suppliers and communities across the U.S."
The additional strike plans are despite automakers making record offers to the union that include roughly 20% hourly wage increases, thousands of dollars in bonuses, retention of the union's platinum health care and other sweetened benefits.
Source: https://www.nbcnews.com/news/us-news/uaw-will-strike-plants-serious-progress-isnt-made-noon-friday-rcna105742
Related Posts