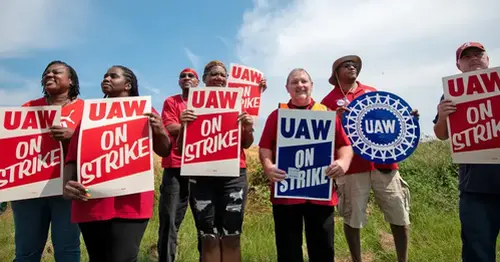 UAW workers at Mercedes-Benz supplier go on strike, potentially affecting popular Mercedes models
The largest U.S. autoworkers union said Wednesday that 190 workers with a local union in Alabama are now on strike.
The United Auto Workers says a group of employees at ZF Chassis Systems, which supplies front axles to a nearby Mercedes-Benz factory, is now on strike, seeking better pay and benefits.
Axles are essential components that connect a vehicle's wheels and allows them to rotate and steer as the vehicle is driven. Mercedes-Benz builds some of its most popular models in Alabama, including the full-size GLS SUV, the GLE coupe and SUV, and the electric EQE and EQS SUVs.
Tony Sapienza, head of communications for ZF North America, confirmed to NBC News that UAW employees at the Tuscaloosa plant have walked out.
"We remain committed to continuing negotiations in good faith and are hopeful that we can come to a resolution soon," he said, adding that the plant is continuing to run during the strike.
In an emailed statement, Mercedes-Benz said it is monitoring the situation.
The development in Alabama is a separate action and a separate negotiation from the ongoing UAW strike. About 12,700 autoworkers went on strike Friday after their previous contract with General Motors, Ford and Stellantis expired.
GM and Stellantis announced new layoffs Wednesday as the strike closes in on its first week. Some 2,000 workers at a GM auto plant in Kansas were sent home after the company idled the facility, citing a lack of work after walkouts elsewhere in its manufacturing pipeline.
And Stellantis, the maker of Chrysler, Jeep and Dodge vehicles, said it is laying off 68 workers in Ohio, and another 300 layoffs in Indiana could soon follow.
The automaker said it was laying off employees at its Toledo machining plant in Perrysburg, Ohio, because of "storage constraints." It said it expects to do the same at its transmission and casting facilities in Kokomo, Indiana.
The larger UAW strike began at three plants, one from each of the Detroit car companies. The separate strike is the first time Mercedes-Benz has been affected.
Source: https://www.nbcnews.com/business/business-news/uaw-mercedes-benz-supplier-strike-affects-popular-mercedes-models-rcna111353
Related Posts