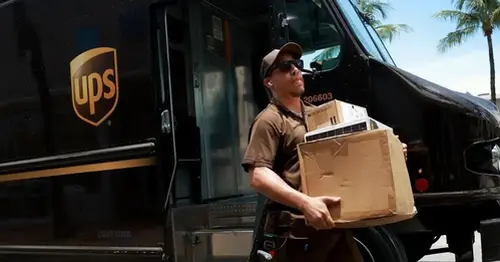 UPS customers weigh backup plans as threatened strike date approaches
With a little more than three weeks until UPS workers' threatened strike date arrives, businesses that rely on the nation's largest package carrier have been considering their plan Bs.
Teamsters leaders representing 340,000 UPS employees have already announced tentative deals toward a new five-year labor contract, addressing air conditioning in vehicles, workforce structure and more. But an overall agreement has yet to materialize, and the company and union have been trading barbs since negotiations broke down after the long July Fourth weekend.
Part-time employees' pay remains a sticking point, Teamsters President Sean O'Brien told MSNBC on Friday morning, even though, he said, "We've come to agreement on most of the terms."
As the clock ticks down to Aug. 1 — the date when unionized workers have threatened to walk out after voting last month to authorize a strike — some UPS customers are planning for potential disruptions.
"I feel sad for the UPS workers because I want them to get paid and they do a good job … but it's definitely scary," said Heather DeVal, the owner of an apparel and home goods seller called Sunshine Soul in Annapolis, Maryland. She uses the carrier for about 40% of her total shipments, but for almost all of her wholesale orders, which brought in around 70% of her revenue last year.
If UPS workers strike next month, DeVal said she'd lean more on the U.S. Postal Service and FedEx but finds UPS the most convenient and reliable option in her area. "For wholesale alone, the shipping cost would probably be double," she said.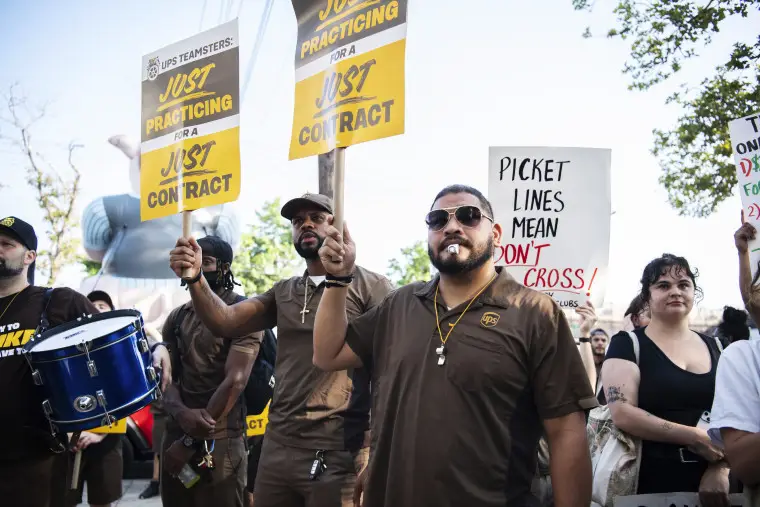 Other business owners voiced less urgency to line up alternatives.
Toybox, an Oakland, California, company that makes devices for 3D-printing toys, relies on UPS "a lot," said COO Malcolm Bird, but he isn't concerned about finding another carrier.
"We're going to be able to ship, it's just we're going to have to use somebody else," he said.
Left Coast Original, a laser engraving company in Largo, Florida, uses UPS for 99% of its packages — ranging from personalized charcuterie boards to monogrammed wallets — which totaled around 70,000 last year, said founder Aaron Bornfleth. He's waiting to see how the labor talks unfold in the coming weeks before diverting packages to another carrier.
Even if we were to be proactive about putting together a mitigation plan to switch over to FedEx, everyone else would be doing that, too.
Left Coast Original Founder Aaron Bornfleth
"We'll just have to jump from one lily pad to another as the situation develops," he said. "Even if we were to be proactive about putting together a mitigation plan to switch over to FedEx, everyone else would be doing that, too."
A FedEx spokesperson said the company was working to accommodate customers looking to move their shipping to the carrier but pointed to a statement released Thursday urging prospective newcomers to act fast. The spokesperson warned that, like other carriers, FedEx faces limits to how much additional volume it can handle in case of a UPS strike.
A USPS spokesperson said, "The Postal Service has a strong network, and we have the capacity to deliver what is tendered to us."
For businesses in more remote areas, securing a fallback might not even be a possibility.
Jaclyn Wilson, the co-owner of Flying Diamond Beef in western Nebraska, ships all her company's perishable packages through UPS. When she does ship by air, it requires a five-hour drive to Denver.
"In our case [a prolonged strike] would shut us down because we aren't really able to use any other provider out here," she said. "We'd only be able to do deliveries by person and not be able to ship until it gets figured out."
UPS union moves closer to strike as talks collapse
July 7, 2023
05:28
No date has been set for UPS and the Teamsters to resume negotiations, and few details have emerged publicly about the remaining issues of contention, which O'Brien has characterized as economic.
"It could be that this is theater, and both sides are trying to get the last possible advantage to squeeze out the last available dollar" before unveiling a contract deal, said Seth Harris, a law and policy professor at Northeastern University, who served as President Joe Biden's top labor adviser until last year. "Or it could be that they're at a genuine impasse where there's no overlap in their positions, and they're trying to assess what to do."
While UPS has consistently emphasized its Aug. 1 strike deadline, some labor experts note that the union can extend its existing contract beyond the July 31 expiration date at its discretion. That could give rank-and-file workers time to vote on a new deal should one come together in the final days of July or even afterward.
It could be that this is theater, and both sides are trying to get the last possible advantage to squeeze out the last available dollar.
Prof. Seth Harris, Northeastern University
Asked about that possibility, a union spokesperson said, "The previous Teamsters administration gave extensions and concessions, but those days are over and UPS needs to face this reality."
A work stoppage at UPS would be the largest single-employer strike in U.S. history. Logistics experts say that even several days of halted UPS deliveries would likely disrupt the flow of more packages than top rivals such as FedEx or USPS could absorb, threatening to upend the back-to-school shopping season.
Even so, retailers have been devising backup plans for "quite some time," said Jess Dankert, vice president for supply chain at the Retail Industry Leaders Association, a trade group representing major brands such as Walmart and Target.
Many companies had already diversified their delivery providers and added smaller, more regional carriers during the pandemic surge in e-commerce, said Dankert, adding that retail supply chains "are built to be flexible and resilient."
"In the worst-case scenario of a strike, there certainly would be disruptions, but hopefully, those contingency plans will mitigate any of the more significant impacts," she said.
Source: https://www.nbcnews.com/business/business-news/ups-customers-weigh-backup-plans-threatened-strike-date-approaches-rcna93044
Related Posts