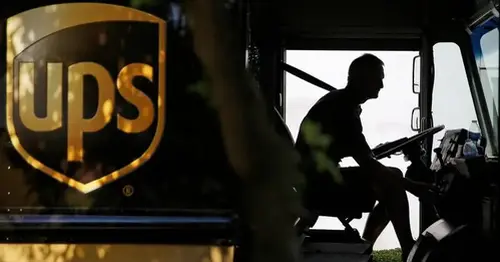 UPS drivers on track to get air-conditioned trucks for the first time
With a strike authorization vote underway, union leaders and UPS announced a tentative deal to add air conditioning to the package carrier's iconic brown delivery vehicles for the first time.
"The Teamsters and UPS agreed to tentative language to equip the delivery and logistics company's fleet of vehicles with air conditioning systems, new heat shields, and additional fans," the union said in a statement late Tuesday.
UPS confirmed it reached an agreement on heat safety with the Teamsters, saying in a statement that the tentative language "includes new measures that build on important actions rolled out to UPS employees in the spring, including new cooling gear and enhanced training."
The announcement follows years of complaints by labor leaders — at UPS and other major retail and logistics companies — that working in hot weather can become unbearable and even dangerous.
Until now, the nation's largest package carrier has long resisted calls to add air conditioning to its fleet as summertime temperatures have climbed to record highs across the country. More than 100 UPS workers have been hospitalized for heat illnesses in recent years, with some falling so ill that they neared kidney failure, NBC News has reported.
The tentative agreement would require in-cab air conditioning in most UPS delivery vehicles purchased after Jan. 1, 2024, the Teamsters said in the announcement. Two fans would also be installed in package cars, which the union said make up most of the company's 93,000-vehicle fleet.
Newer vehicles would also be equipped with exhaust heat shields, and existing and newly purchased package cars would be fitted with air induction vents "to alleviate extreme temperatures in the back of the vehicles" where cargo is held, the union said.
UPS workers say the backs of trucks, where they must go to retrieve packages, can sometimes feel like saunas. Occupational Safety and Health Administration inspectors have documented heat indexes of 126, and temperature readings taken by workers in their trucks in Arizona and Florida and provided to NBC News have shown temperatures above 150 degrees.
News of the tentative heat safety deal could lower the likelihood of a nationwide strike that workers have threatened, as broader negotiations over a new five-year contract covering some 340,000 UPS employees continue ahead of a July 31 deadline.
Unionized workers have been voting since last week on whether to authorize a strike, with results set to be announced Friday. The vote, which wouldn't automatically trigger a work stoppage if approved, is a common bargaining tactic that aims to boost the union's leverage.
Still, a vote in favor would move UPS workers one step closer to a potential nationwide work stoppage — which could be called as soon as Aug. 1, the day after the current contract expires — that experts say could deal a fresh blow to the U.S. economy even as inflation cools.
Logistics experts have warned that a protracted strike would likely disrupt more deliveries than top rivals such as FedEx or the U.S. Postal Service could absorb, potentially upending the back-to-school shopping season.
"Even one day of strike by UPS would have a significant impact on delivering those orders," said Jess Dankert, vice president for supply chain at the Retail Industry Leaders Association, a trade group representing major brands such as Walmart and Target.
If UPS and Teamsters leaders can't reach a contract agreement in time and workers opt to walk off the job, it would be the largest single-employer strike in U.S. history. The last UPS strike, which lasted 15 days in 1997 and centered on securing better wages and job security, cost the company $600 million in revenue but resulted in employee gains on both measures.
The rise of e-commerce, accelerated by the pandemic, has reshaped UPS workers' demands this time around. They're now sorting and delivering millions of more packages — 6.2 billion globally in 2022, up from 5.5 billion in 2019 — and say UPS could use the $13 billion it generated in profits last year to improve pay and working conditions, particularly around heat safety.
As recently as Monday, the union was publicly hammering UPS on the issue, with the Teamsters urging union Twitter followers to "EXPOSE UPS INACTION ON HEAT SAFETY." Union President Sean O'Brien, who was elected in part for his willingness to call for a strike, retweeted the message.
UPS is far from the only major logistics operator to face scrutiny around heat-related risks to its employees. And while UPS is unusual in its industry for maintaining a large unionized workforce, any new concessions by the package carrier could ramp up pressure on rivals to follow suit.
Source: https://www.nbcnews.com/business/business-news/ups-drivers-track-get-air-conditioned-trucks-first-time-ever-rcna88460
Related Posts