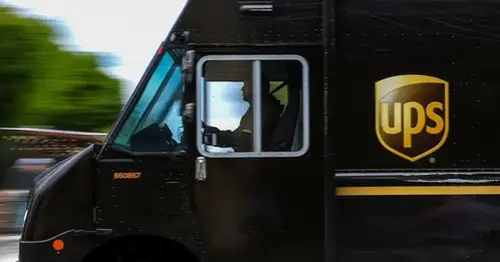 UPS workers reach a tentative contract deal with management days ahead of strike deadline
UPS and the Teamsters union reached a tentative agreement for a new five-year contract covering 340,000 workers at the country's largest package carrier Tuesday, six days before a threatened strike that risked snarling deliveries across the country.
Union leaders announced the deal at midday, hours after they resumed negotiations following a breakdown in talks on July 5. The handshake agreement must still be approved by rank-and-file union members at UPS to take effect.
"UPS has put $30 billion in new money on the table as a direct result of these negotiations," Teamsters President Sean O'Brien said in a statement Tuesday. "This contract sets a new standard in the labor movement and raises the bar for all workers."
UPS CEO Carol Tomé said in a statement, "Together we reached a win-win-win agreement on the issues that are important to Teamsters leadership, our employees and to UPS and our customers." The deal, she said, "continues to reward UPS's full- and part-time employees with industry-leading pay and benefits while retaining the flexibility we need to stay competitive, serve our customers and keep our business strong."
Norbert Rodriguez, a veteran UPS package car driver who participated in the last Teamsters strike at the company, in 1997, celebrated the announcement while delivering packages on his route.
"I am so glad that O'Brien negotiated such a great contract, 'cause I'll be honest with you: It is needed," he said.
"The biggest win is finally getting the air-conditioned car," Rodriguez added, referring to a key provision of new heat safety measures the two sides came to terms on last month. The Teamsters hailed the changes as a major breakthrough after years of complaints that working in hot weather has grown more dangerous, as climate change fuels extended stretches of record high temperatures across the country.
"I work in Arizona. Today is gonna be 114 degrees," Rodriguez said. "These conditions are getting tougher and tougher."
While UPS and union leaders had already reached agreements on most issues weeks ago, a handful of economic matters remained unresolved when negotiations restarted Tuesday, including part-time workers' pay. The impasse, roughly three weeks before the union's threatened strike, had raised concerns among small-business owners who rely on UPS to ship their packages.
UPS workers voted overwhelmingly on June 16 to authorize a strike in case a deal couldn't be reached before their current contract expires Monday.
The tentative deal would also eliminate a feature of the current labor agreement that many rank-and-file members had reviled from the outset: a class of driver known as "22.4s," named for the section of the contract that created them.
Disapproval of the two-tiered system contributed to UPS workers' voting down the contract Teamsters leaders negotiated in 2018, but union brass used procedural measures to impose it anyway. The infighting triggered a leadership shakeup that brought O'Brien to power.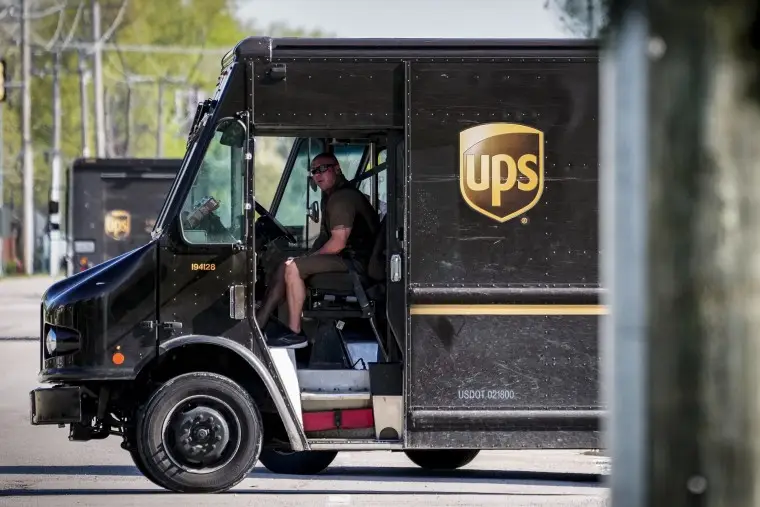 Under the new deal, 22.4 drivers would be reclassified as regular drivers and have their pay adjusted accordingly. UPS would also be prevented from requiring drivers to work overtime on their scheduled days off.
The five-year contract deal also includes what the union called "historic" wage increases. Current full- and part-time union workers are guaranteed a $2.75 hourly pay increase this year, the Teamsters said, amounting to a $7.50 hourly increase through the duration of the contract.
Pay for existing and starting part-time workers — which UPS and Teamsters leaders described as the last hurdle for a contract — would be raised to at least $21 per hour immediately, advancing to $23 per hour.
Current part-timers also won longevity wage increases of up to $1.50 per hour. Wage increases for full-time drivers would bring their average top rate to $49 per hour, the union said.
A work stoppage by UPS drivers would have been the largest single-employer strike in U.S. history. A recent forecast by the Anderson Economic Group estimated that a 10-day walkout would cost the U.S. economy $7 billion, with workers racking up $1.1 billion in lost wages and UPS losing $816 million.
The 1997 walkout at the company, which lasted 15 days and involved 185,000 workers, centered on securing better wages and job security. It ultimately cost UPS $600 million in revenue but resulted in employee gains on both measures.
The rise of e-commerce, accelerated by the coronavirus pandemic, reshaped UPS workers' demands in the latest round of contract talks. They're now sorting and delivering millions more packages — 6.2 billion globally last year, up from 5.5 billion in 2019. Labor leaders had argued that UPS should use the $13 billion it generated in profit last year to improve employees' pay and working conditions.
Logistics experts had warned that a protracted strike this time around would most likely have halted many more deliveries than top competitors like FedEx or the U.S. Postal Service could absorb, potentially upending the back-to-school shopping season. Both rival carriers said they were prepared to handle any disruptions.
Source: https://www.nbcnews.com/business/business-news/ups-workers-reach-tentative-contract-deal-management-days-ahead-strike-rcna90471
Related Posts