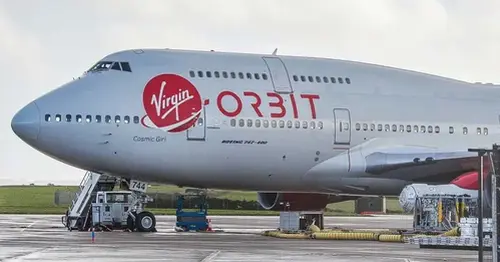 Virgin Orbit files for bankruptcy protection in the U.S. after failing to secure funding
Virgin Orbit on Tuesday filed for Chapter 11 bankruptcy protection in the U.S. after failing to secure a funding lifeline.
The California-based satellite launch company lodged the filing in the U.S. Bankruptcy Court in the District of Delaware and is looking to sell its assets.
It comes after CNBC obtained audio of Virgin Orbit CEO Dan Hart telling employees during an all-hands meeting last week that the company was ceasing operations "for the foreseeable future." The firm also said it would lay off nearly all of its workforce.
"While we have taken great efforts to address our financial position and secure additional financing, we ultimately must do what is best for the business," Hart said in a statement Tuesday.
"We believe that the cutting-edge launch technology that this team has created will have wide appeal to buyers as we continue in the process to sell the Company. At this stage, we believe that the Chapter 11 process represents the best path forward to identify and finalize an efficient and value-maximizing sale," he added.
Virgin Orbit said it was focused on a swift conclusion to its sale process to provide clarity on the future of the firm.
Virgin Orbit said a commitment from Virgin Investments had allowed the company to secure $31.6 million in new money through "debtor-in-possession" financing. This process, sometimes known as DIP financing, refers to funding for businesses that have filed for Chapter 11 bankruptcy protection to allow them to keep operating.
What happened?
Virgin Orbit developed a system that uses a modified 747 jet to send satellites into space by dropping a rocket from under the aircraft's wing mid-flight.
The company's last mission suffered a mid-flight failure, with an issue during the launch preventing the rocket from reaching orbit. It crashed into the ocean.
Virgin Orbit is among a select few U.S. rocket companies to successfully achieve orbit with a privately developed launch vehicle. It has launched six missions since 2020, counting four successes and two failures.
It has been looking for new funds for several months, with majority owner Richard Branson unwilling to fund the company further.
Branson founded the company in 2017 and owns a 75% interest. Abu Dhabi sovereign wealth fund Mubadala holds the second-largest stake at 18%.
The company began commercial services in 2021 and began publicly trading on the Nasdaq stock exchange after a so-called SPAC merger. The deal saw the company valued at nearly $4 billion at the time.
It is a markedly different picture at present. Virgin Orbit had a market value of roughly $65 million, according to the Monday closing price.
"Today my thoughts and concerns are with the many talented teammates and friends now finding their way forward who have been committed to the mission and promise of all that Virgin Orbit represents," CEO Dan Hart said.
Source: https://www.nbcnews.com/news/us-news/virgin-orbit-files-bankruptcy-protection-us-secure-funding-rcna78062
Related Posts