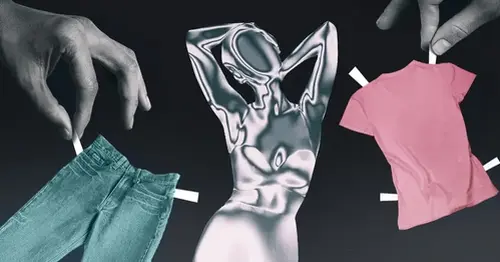 Virtual supermodels made with AI spark fears in fashion workforce
Plans by Levi's to test out virtual clothing models generated by artificial intelligence drew swift backlash in the industry late last month. While the furor mainly focused on diversity concerns, the retailer's proposal also stirred up other anxieties that have been simmering in the industry for years.
Some critics of Levi Strauss & Co.'s partnership with AI design firm Lalaland.ai, which aimed to show online shoppers different types of people wearing Levi's garments, accused the retailer of looking to inexpensively address issues of representation — potentially pushing professional models out of their jobs in the process.
"When you have to hire a model, book an agency, have a stylist, do the makeup, feed them on set — all that costs money," said Shawn Grain Carter, a professor of fashion business management at the Fashion Institute of Technology in New York. "Let's make no mistake about it, Levi's is doing this because this saves them money."
A Levi's spokesperson referred to a statement in which the company denied any intentions to save costs with the project. The retailer said that the AI models it planned to introduce would supplement but not replace its photoshoots with live models. Lalaland didn't respond to a request for comment.
Worries about technology displacing human labor are nothing new, and they're far from distinct to the fashion workforce. But while AI has been used in fashion for years, some workers are watching its expansion in the space with growing alarm.
Yanii Gough, a model and the founder of Yanii Models, where she works with over 100 models, said that many are still "dying to get back to consistency" as the industry re-emerges from pandemic-related disruptions.
First AI Fashion Week debuts in NYC
April 22, 2023
05:57
With the rise of AI modeling firms, clients can simply "send an email to the agency and say, 'Hey, this is exactly what I'm looking for,' and someone will find that person," she said, referring to companies that book models for everything from photoshoots to fittings.
There is some precedent for concerns like Gough's.
Shudu, created in 2017 and thought to be the world's first digital supermodel, has booked gigs within the past year with high-end brands such as BMW and Louis Vuitton. Shudu, who was designed as a Black woman, also drew criticism toward The Diigitals, the AI modeling agency that created her, and its founder, Cameron-James Wilson, who is white.
Today, options continue to expand for brands and advertisers looking to use AI to help market and sell clothes. In addition to Lalaland, there's also Deep Agency, a new AI startup that allows users to create a virtual photoshoot with either synthetic models or an AI version of a real person.
Gough said she also worries about models' images being used without their permission via AI, a concern that Sara Ziff, the founder of a nonprofit advocacy group called the Model Alliance, said she is hearing as well.
"Fit models may be replaced by AI body scans," she said, adding that these models — who try on clothes for designers and manufacturers to check sizing and silhouettes — are already calling her organization in growing numbers.
Ziff said some have complained that companies are hiring them to conduct body scans, which can form the basis for product development without their knowledge or receiving compensation.
"So they're able to design the clothes on virtually using a scan of the model's body, rather than actually having to book the model in person," said Ziff, who declined to provide examples, citing the Model Alliance's policy of maintaining an anonymous hotline for industry workers to flag complaints.
Fashion brands have defended their AI efforts as add-ons that benefit shoppers, and the AI design studios and agencies working in the space similarly describe their efforts as supplemental. Lalaland's founders, for example, have said they created the company to sustainably increase representation in fashion.
Agents and management companies who book models for the types of jobs Ziff described don't legally have to tell them their body scans could be used on more projects without compensation, she said. Ziff is advocating for the proposed Fashion Workers Act in New York, which she said would force agencies to more fully disclose the scope of work and pay.
Current law leaves some gray area around models' rights to organize unions, Ziff added, resulting in limited labor protections.
Because most models are considered independent contractors, many face heightened risks of being sued or retaliated against by their agencies. Representatives for other professionals in creative fields, like the Writers Guild of America, have the power to propose standards and best practices for AI use in their industries.
Meanwhile, AI models have become so realistic that it's already impossible for many consumers to distinguish them from images of humans. Ashley France, an influencer who criticized Levi's partnership with Lalaland, said she hopes regulators will step in.
Source: https://www.nbcnews.com/business/business-news/ai-models-levis-controversy-backlash-rcna77280
Related Posts