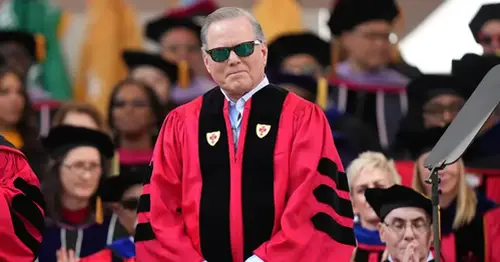 Warner Bros. Discovery CEO David Zaslav booed at Boston University graduation amid writers strike
A Hollywood studio head was met with jeers and protests when he delivered the commencement address for Boston University on Sunday amid the ongoing Hollywood writers strike.
BU students booed and turned their backs on David Zaslav, president and CEO of Warner Bros. Discovery, as he delivered the commencement address at Nickerson Field, the school stadium. Others protested outside ceremony on a picket line with an inflatable rat, NBC Boston reported.
Videos circulating on social media appeared to show BU students at the commencement ceremony chanting "Pay your writers" as school officials introduced Zaslav ahead of his speech; other video appeared to show the protesters outside the stadium demanding a contract.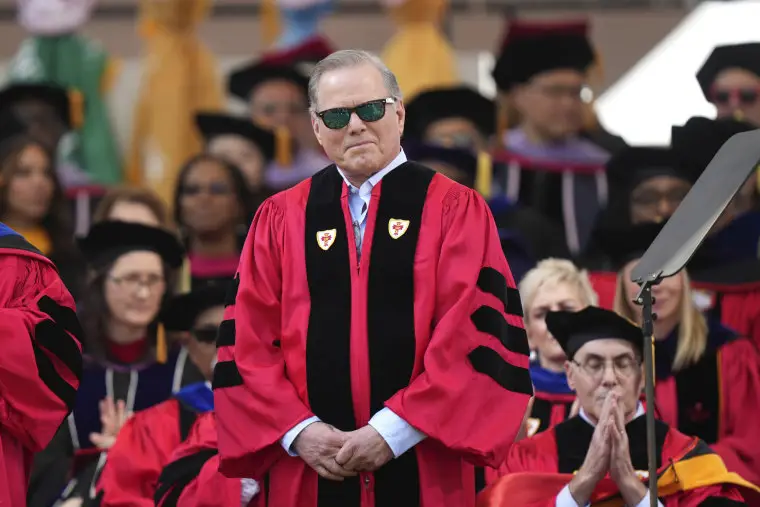 The protests come as the writers' strike stretches into its third week. Unionized writers brought television production to a halt earlier this month when they started their strike, saying they are not being paid fairly.
The choice of Zaslav as commencement speaker drew protests before he even set foot on campus. Several student clubs on campus launched a campaign to cancel his speech before it occurred, according to the student newspaper the Daily Free Press.
BU President Robert Brown told the student newspaper prior to the commencement ceremony that university officials believed Zaslav's "accomplishments are worthy of our recognition and that our graduates will find his personal story interesting and inspiring."
Zaslav graduated from the BU School of Law, according to his biography. Prior to working at Discovery, Zaslav was an executive at NBCUniversal, the parent company of NBC News.
In one clip of the commencement address posted to social media, Zaslav quoted the late General Electric CEO Jack Welch, saying Welch told him, "If you want to be successful, you're going to have to figure out how to get along with everyone — and that includes difficult people."
Students responded with a coordinated chant of, "Pay your writers!"
"Some people will be looking for a fight," Zaslav continued, prompting boos.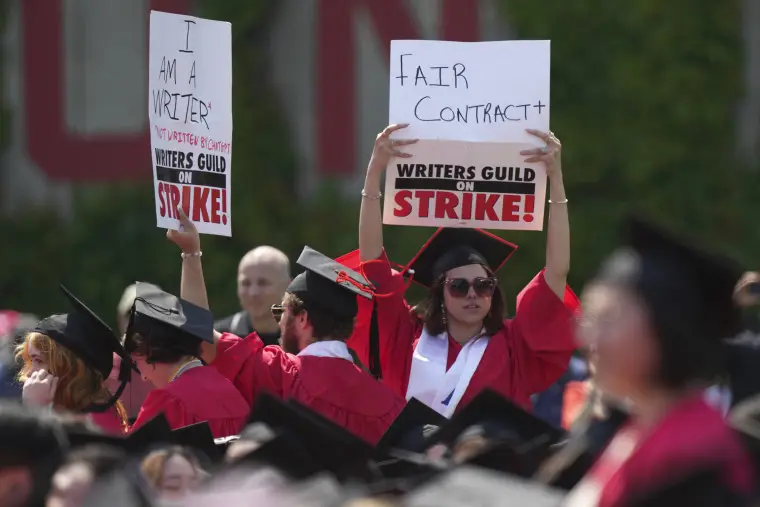 In a statement released after the event, Zaslav said: "I am grateful to my alma mater, Boston University, for inviting me to be part of today's commencement and for giving me an honorary degree, and, as I have often said, I am immensely supportive of writers and hope the strike is resolved soon and in a way that they feel recognizes their value."
During an appearance on CNBC earlier this month, in which he discussed his company's first-quarter $50 million profit, Zaslav said the compensation disputes stem from ongoing changes in the industry, citing the rise of streaming platforms and different content sources.
"The industry is in the middle of some significant disruption, and people are changing the way they consume content, and so it's very difficult to figure out, how does that work, what's the right value for it," Zaslav said.
The Writers Guild of America, East tweeted Sunday afternoon that it was "thankful to all the B.U. graduates for chanting 'Pay your writers' at Warner Bros. Discovery CEO David Zaslav while he delivered the #BU2023 commencement address."
The protesters also received support from some Democratic politicians.
Rep. Alexandra Ocasio-Cortez, a BU alum, retweeted a video of BU students chanting "Pay your writers!" during Zaslav's speech, and added the comment, "Go Terriers!"
Senator Bernie Sanders also tweeted his support for the protesters, writing: "If Warner Bros Discovery can afford to pay its CEO David Zaslav $286 million in compensation over the past 2 years, it can afford to pay its writers much better wages and benefits. Mr. Zaslav: Listen to the Boston University students and the Writers Guild. Pay your writers."
Source: https://www.nbcnews.com/news/us-news/warner-bros-discovery-ceo-david-zaslav-booed-boston-university-graduat-rcna85601
Related Posts