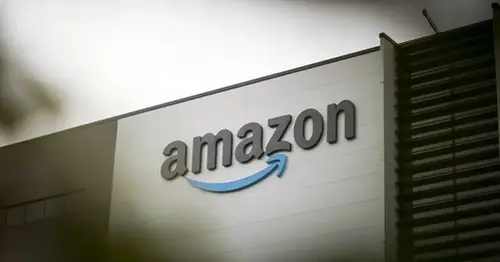 What are the four cases the FTC has recently brought against Amazon?
The Federal Trade Commission's major swing at Amazon on Tuesday is part of a larger offensive targeting the company.
The agency's antitrust lawsuit against the e-commerce giant, filed with the support of 17 state attorneys general, is just the latest in a string of legal complaints against the company filed under the Biden administration.
The White House's pick to lead the FTC, Lina Khan, has earned praise from consumer rights groups for her longstanding critiques of Amazon as a monopolistic power, as well as criticism from business lobbies.
Khan's FTC has already brought three other cases against Amazon this year. Two have been settled out of court, while a third is still awaiting trial.
The attorneys general of California and Washington, D.C., have also independently sued Amazon, each alleging Amazon engaged in anticompetitive practices by forcing sellers to abide by restrictive agreements.
Washington's suit was initially filed in 2021. A court dismissed the case, but Washington is appealing. No trial date is yet scheduled. California's suit, filed last year, is set for a 2026 trial.
FTC vs. Amazon's marketplace
In Tuesday's lawsuit — the biggest and most substantial so far — the U.S. government's business watchdog alleged that Amazon warped prices of goods across the internet by using its dominance to pressure sellers into playing by its rules.
Those allegations center on what the FTC called "monopolistic practices" that include "stifling competition on price, product selection, quality, and by preventing its current or future rivals from attracting a critical mass of shoppers and sellers..."
Amazon has responded by arguing that its practices have spurred competition in the retail industry and benefited consumers, who have enjoyed a greater selection of goods at lower prices and shorter delivery times.
FTC vs. Ring
Amazon's security camera company, Ring, settled with the FTC for $5.8 million in May over a series of allegations related to employees spying on users' stored videos.
The FTC said in a complaint that, before 2019, Ring had few or no limits on which videos were accessible to employees or to the hundreds of Ukrainian contractors who worked with the company — and that employees repeatedly spied on customers, and each other, without permission.
One employee allegedly viewed "thousands of video recordings" of at least 81 women and frequently searched for terms like "master bedroom" and "master bathroom," the FTC said. Another found a co-worker's account through her email address and watched her home videos without her permission. 
In a statement, Ring said that it had addressed those problems before the FTC began its inquiry and that it disagreed with the allegations. "We take our responsibility to protect our customers' privacy and security extremely seriously," it said.
FTC vs. Alexa
Also in May, Amazon settled with the FTC for $25 million over allegations that its Alexa virtual assistant devices stored information on users indefinitely. That included information on children — an alleged violation of one of the major federal privacy laws in the U.S., the Children's Online Privacy Protection Act. 
COPPA requires companies that collect information on children under the age of 13 to delete that data after a certain amount of time and to give parents the ability to have it erased. 
The FTC alleged that, before September 2019, Amazon would store both audio recordings and text transcripts of every request made to Alexa products, including through its speaker and a subscription service marketed specifically to children.
"For Alexa to recognize and process a child's voice request, it is not reasonably necessary to retain that child's voice recordings forever," the FTC said.
In a statement issued after the settlement, Amazon said that the company retains voice recordings "until parents choose to delete them so we can provide parents with insight into their children's use of Alexa in the Alexa Privacy page, and to provide and improve our services." It added that it would begin removing child profiles that had been inactive for more than 18 months.
FTC vs. Prime
In June, the FTC sued Amazon for allegedly tricking users into signing up for its paid subscription service, Prime, using so-called dark patterns.
"Amazon has knowingly duped millions of customers into unknowingly enrolling in Amazon Prime," the FTC said. 
Similarly, the FTC said the company deliberately made canceling Prime so difficult that it internally nicknamed the process the "Illiad," a reference to the Homeric epic poem about the 10-year Trojan War.
Amazon was deceptive with its sign-up process, the FTC said, like making it difficult to find a clickable option to purchase an item without also signing up for Prime. In one example, customers who are trying to purchase an item may see two buttons — "Get FREE Two-Day Shipping" and "Enjoy Prime FREE for 30 days" — that both register the customer for Prime. Only navigating to less conspicuous text to the side, which reads "No thanks, I do not want fast, free shipping" lets customers proceed without Prime.
Source: https://www.nbcnews.com/tech/tech-news/are-four-cases-ftc-recently-brought-amazon-rcna117426
Related Posts