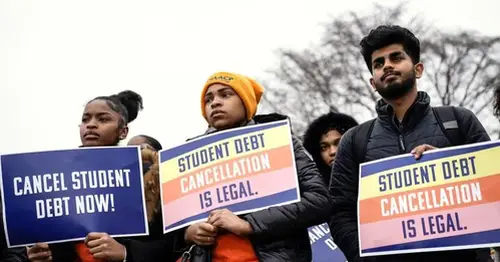 What the end of Biden's student debt relief plan means for the wider economy
WASHINGTON — The Supreme Court's decision to strike down President Joe Biden's plan to wipe out billions of dollars in student debt is expected to have a ripple effect on the economy as millions of households start making room in their budgets for their monthly loan payments. 
Since March 2020, when then-President Donald Trump put a pause on student loan payments at the start of the pandemic, millions of borrowers stopped making billions of dollars in monthly loan payments and directed that money instead toward other bills and necessities, according to economists and consumer surveys.  
Now, with payments set to restart within the next two months for an estimated 44 million borrowers, economists are raising concerns about whether many will be able to afford their payments amid troubling signs for the American consumer, including dwindling savings rates, rising credit card debt and an uptick in auto loan defaults.
"People are already kind of at the edge of affordability so this could really tip the scales for some folks and they will have to pull back somewhere else," said Thomas Simons, a senior economist at Jefferies, a financial services company. "I would expect at a minimum you see a pullback in spending, but also probably a pretty significant increase in delinquency rates and under performance of outstanding consumer debt."
Limited data is available on how much the average borrower will owe when payments restart or how many borrowers stopped making them regularly during the pause, but Simons estimates at least 40 million borrowers will resume payments with an average monthly bill of around $400, based on Federal Reserve surveys and other government data. 
That means at least $12 billion a month could be coming out of household budgets and going into student loans instead of other consumer items, Simons said.
Mark Zandi, chief economist at Moody's Analytics, estimated in a CNBC interview that payment resumption could take "a couple tenth of a percent" off the country's gross domestic product. It would unlikely tip the U.S. into a recession, he said, but adds pressure to an economy already under strain from high inflation and rising interest rates. 
Biden announced last August that his administration would cancel up to $20,000 in student loan debt for recipients of Pell Grants, a federal award to undergraduates with low incomes, and $10,000 of loan forgiveness for all other federal borrowers with annual income under $125,000 and families with joint incomes of under $250,000.
The White House said the plan would reduce debt for 43 million borrowers and wipe out the full remaining balance for roughly 20 million borrowers. It also said nearly 90% of the relief for those no longer in school would go to people earning less than $75,000 a year.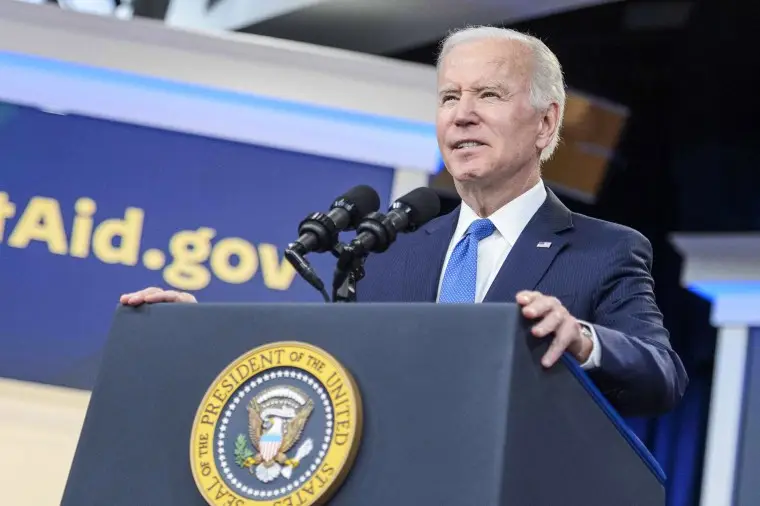 But the plan was put on hold after it was challenged in court by plaintiffs who argued the administration's proposal violated the Constitution and federal law. They argued it circumvented Congress, which they said has the sole power to create laws related to student loan forgiveness.
The Supreme Court ruled the program was an unlawful exercise of presidential power because it had not been explicitly approved by Congress. In the 6-3 ruling, the court rejected the Biden administration's arguments that the plan was lawful under a 2003 law that says the government can provide relief to recipients of student loans when there is a "national emergency," allowing it to act to ensure people are not in "a worse position financially" as a result of the emergency.
Even before the Supreme Court's decision, Wall Street analysts had begun warning investors that retailers could see their sales shrink as borrowers with remaining debt started shifting money toward loan payments and away from bills and discretionary consumer purchases.
A survey earlier this year by CreditKarma.com found that 26% of respondents with outstanding loans said the money they previously paid toward their student loans was now being used to pay for bills and other necessities.
Retailers could see their sales cut by as much as 2% starting in the second half of the year as a result of repayments restarting, according to a research report from JP Morgan analyst Christopher Horvers. Had Biden's debt forgiveness plan stayed in place, Horvers estimated a $5 billion cut to consumer spending from the restarting of loan payments for those not effected by the plan. But without the debt relief, he expects consumer spending to be reduced by $10 billion. 
Among the retailers most likely to be affected are Target, Best Buy, Dick's Sporting Goods and Ulta Beauty, given their dependence on Generation X and millennial consumers and their geographic footprints in areas where borrowers have the biggest loan payments, like in the Northeast, Horvers said.
The resumption of loan payments could also add pressure to an already strained housing market for first-time homebuyers. Before the pandemic loan pause, student debt had been a major barrier for those looking to buy their first home, said Jessica Lautz, deputy chief economist at the National Association of Realtors. 
A survey by the association found that about half of all student loan holders said debt had delayed them from purchasing a home.
"We find consistently that it's the biggest debt that young adults hold and that they have a hard time not only saving for a down payment, but then qualifying for a mortgage because of their debt-to-income ratio, or a missed payment that could have impacted their credit along the way," Lautz said.
The resumption of loan payments comes as home buyers are already struggling with rising interest rates, tighter lending and home prices that remain well above pre-pandemic levels. Last year, the number of first-time homebuyers fell to 26% of all buyers, the lowest level on record, with the average age up to 36 years, according data from the National Association of Realtors. 
Source: https://www.nbcnews.com/politics/supreme-court/end-bidens-student-debt-relief-plan-means-wider-economy-rcna88878
Related Posts