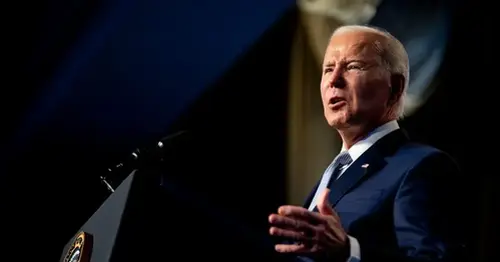 White House digs in on debt strategy after House Republicans pass their plan
The surprise passage of House Republicans' plan to slash spending in return for raising the debt ceiling is pushing the White House to refine its debt ceiling strategy, ramping up attacks on GOP lawmakers while maintaining there are still no plans for President Joe Biden to invite Speaker Kevin McCarthy, R-Calif., for talks over how to avoid a crippling debt default, a White House official said.
Biden aides strategized Friday over how to use the upcoming congressional recess to hammer lawmakers in their backyards for supporting a bill that would undo Biden initiatives to relieve student debt, support clean energy tax incentives and ramp up IRS enforcement, while strictly limiting growth in most domestic spending programs.    
The messaging plan seeks to spell out what the House's proposed spending plan would mean for specific states and congressional districts, through cuts to programs that provide medical care for veterans, nutrition assistance for women and young children, and invest in medical research.
The aides also aim to flip the script on Republicans by warning about the security of the nation's southern border.
House passes Republican debt ceiling bill in a win for Speaker McCarthy
April 26, 2023
03:02
With the vote on the debt bill, "House Republicans looked their constituents in the eye and said that they are willing to singlehandedly trigger a recession unless they can fire thousands of Border Patrol agents," White House spokesperson Andrew Bates said in a statement.
Biden will use a meeting with small-business owners from all 50 states Monday to argue that the GOP's debt bill would also hurt the economy, the White House said.
The White House effort is in coordination with outside groups that are planning to blitz the airwaves in Republican-held districts. One group, Courage For America, is targeting eight Republican incumbents for voting to "defund the police, weaken border security and slash veterans' benefits," as a 30-second spot argues.
Democrats are seeking to regain the political upper hand just as House Republicans sense new momentum in the long-simmering debt fight, which they hope will force the White House to the negotiating table. 
For months, Biden has been able to deflect questions about the looming debt ceiling standoff with a familiar refrain, challenging the GOP to "show me your budget." It neatly captured the confidence of the West Wing that McCarthy, who needed an agonizing 15 ballots to secure the speakership in January, would be unable to produce any spending plan with his narrow and fractious majority. Now, it's Republicans — and even some Democrats — suggesting Biden needs to make the next move.
"It's been over two months since President Biden has sat down with Speaker McCarthy to have negotiations," House Majority Leader Steve Scalise, R-La., said Sunday on ABC's "This Week." "President Biden is clearly trying to run out the clock and create a debt crisis. That's irresponsible."
House Minority Leader Hakeem Jeffries, D-N.Y., publicly backed the White House position Friday, pointing to recent history in which a divided Congress raised the debt ceiling with far less drama during Republican administrations. 
"I think President Biden's position is very consistent with President Trump's position, with Speaker Paul Ryan's position, with President Ronald Reagan's position, which is simply that America should pay its bills and avoid a catastrophic and dangerous default. That's not a partisan position," he told reporters.
Some Democrats, most notably Sen. Joe Manchin, D-W.Va., have broken from the White House line to say Biden should meet with McCarthy as soon as possible to negotiate. Rep. James Clyburn, D-S.C., said that ultimately the fight may depend on another Republican leader — Senate Minority Leader Mitch McConnell, R-Ky., stepping up.
Source: https://www.nbcnews.com/politics/politics-news/white-house-digs-debt-strategy-house-gops-surprise-passage-plan-rcna82185
Related Posts