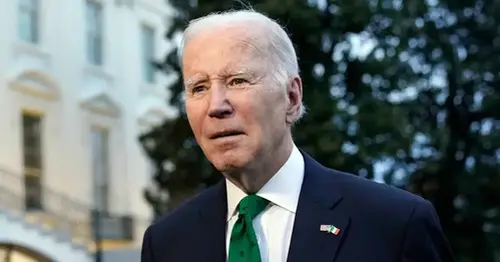 White House to counter GOP's soft-on-crime attacks by targeting far-right budget plan
The White House is planning a messaging push on Monday to try to counter Republican criticism that President Joe Biden and Democrats are weak on crime, according to a White House official.
The official described Monday's focus on crime as the opening salvo in a weeklong "offensive" to highlight different provisions in a budget put forward by the far-right House Freedom Caucus. According to the official, "each day this week, the White House will zero in on how the MAGA budget proposal would be a disaster for hardworking families in a different way." 
On Monday, White House press secretary Karine Jean-Pierre will discuss GOP proposals at the top of her daily press briefing, arguing that the Freedom Caucus budget would cut funding for law enforcement — from local agencies and state grants to the FBI — as well as diminish staffing at the Bureau of Alcohol, Tobacco, Firearms and Explosives and generally "make communities less safe." Those comments will be amplified by "an aggressive digital push" on the issue, according to the White House official. 
President Biden unveils budget plan that OMB Director calls 'beginning of a dialogue' with GOP
March 9, 2023
08:41
The White House plans to lean on its own administration's analysis of the Freedom Caucus budget to back up its claims.
While House Republicans' official budget has yet to be released, the White House is latching onto the proposal that represents the views of the House GOP's most right-leaning members. The budget proposes, among other provisions, capping discretionary spending at fiscal 2022 levels for a decade.
McCarthy and other Republicans criticized Biden's budget, released earlier this month, as unserious and reckless, in part because of provisions to raise taxes on corporations and Americans making more than $400,000 a year. A number of administration officials are scheduled to be on Capitol Hill this week testifying about the provisions in Biden's budget.
The White House's decision to focus Monday on crime in America underscores how the issue is influencing the current political debate, and what Biden is choosing to highlight as he's expected to launch a re-election campaign. Since the 2020 primary, Biden has rejected some of his own party's approach on crime, saying he opposed a push by some Democrats to "defund the police." But the president recently upset some of his fellow Democrats — and took them by surprise — when he decided to back a House Republican bill to overturn a local Washington, D.C., crime law that the GOP said would weaken law enforcement efforts.
Source: https://www.nbcnews.com/politics/white-house/white-house-counter-gops-soft-crime-attacks-targeting-far-right-budget-rcna75700
Related Posts