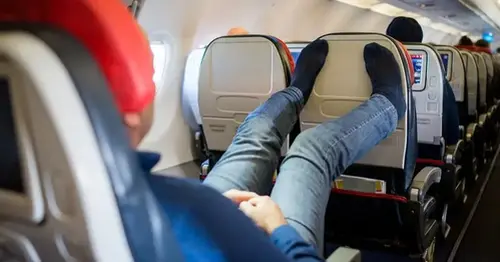 Why are people always debating proper plane etiquette on TikTok?
Are middle-seaters on flights entitled to both armrests? Should passengers check the row behind them before reclining their seats? Can shoes come off during a flight?
Depends on who you ask — or, if you're on TikTok, depends on which influencer you follow.
Videos of creators sharing their do's and don'ts of travel etiquette continue to go viral on the platform, with many users getting into heated discussions in the comments section. These types of videos have become so pervasive on the platform that people have labeled them as a subgenre: FlightTok.
Complaining about fellow passengers is not new, nor is posting about travel woes on social media. Agitated passengers have long used online platforms to connect with others over unpleasant traveling experiences.
I think everybody can relate to the fact that people are misbehaving everywhere, even if it is a little bit of a joke, right
-Ben Keenan, known as @ivebentraveling on TikTok
However, some experts and travel influencers say the influx in specific plane etiquette-related videos has become more commonplace as the travel rebound continues and many people return to situations they hadn't found themselves in since before the pandemic hit.
"I think everybody can relate to the fact that people are misbehaving everywhere, even if it is a little bit of a joke, right?" said creator Ben Keenan, known as @ivebentraveling on TikTok.
Keenan, 30, went viral in April for reposting his list of controversial plane etiquette guidelines, advising passengers to avoid falling asleep if they are sitting in an aisle seat and telling them to always greet flight attendants. 
It quickly picked up hundreds of thousands of views, with people either wholeheartedly agreeing or sharing why they don't.
A browse through "FlightTok" captures similar discourse captured in creator videos and the comments sections.
One user posted about how people who recline their seat should be punished with cold air blasted over them. Another user, after experiencing three hours of a baby's nonstop crying, argued that babies do not belong on flights. One person defended her decision to deny another passenger's request to swap seats. According to the TikToker, a woman wanted to trade her middle seat with the person's window seat to be closer to her teenager son. "I paid extra for this seat. I'm going to sit in the seat I paid for," the video's creator said.
Most recently, travel influencers Matt and Hillary, who are behind the TikTok account @HillnPoo, divided the internet after urging passengers not to stow their coats and jackets in the overhead baggage area. "Are we wrong for thinking jackets in the overhead is a crime?" they wrote in the caption.
According to etiquette expert Diane Gottsman, "the reason why people are divided is because everybody has different trigger points. Everybody has different personalities, they have different frustrations. So the person who may be frustrated about changing seats may not care at all that they're sitting next to somebody eating a tuna sandwich."
Plus, anytime multiple people are placed in tight quarters, "there is a potential for discord," said Gottsman.
Generally speaking, people "don't like to be told what to do," Gottsman said, which could explain vocal opposition to certain plane etiquette recommendations. Some do's and don'ts lists may be received negatively if they are perceived more like commands, rather than requests. Commanding or judgmental tones can provoke strong reactions, amplifying the number of participants in online discourse.
In some of the videos about plane etiquette gone viral, tense interactions showing other passengers were recorded. Online spectators often debate who was in the "right" or the "wrong."
Keenan, who has a TikTok playlist called "Travel for Dummies," said he was surprised by the volume of commenters who had similarly experienced poor etiquette from others, like seeing "a Band-Aid from the person next to them being flicked on the ground," or "people not asking you to move, but instead scooting over the top of you in a seat to get out."
But he said he is wary about how social media has made posting disagreements online the solution to conflict, instead of conversing with fellow passengers as an issue unfolds.
Source: https://www.nbcnews.com/news/plane-etiquette-discourse-tiktok-rcna87131
Related Posts