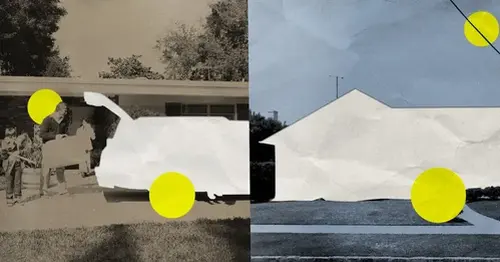 With car repossessions and home foreclosures rising, some Americans are living on a financial cliff
Karen LeSage needs her car.
A 57-year-old single mother living in East Hartford, Connecticut, LeSage needs to drive herself to medical appointments for injuries on her legs and to pick up her teenage daughter, who often suffers from seizures, from school.
"I have to go pick her up," LeSage says. Without the vehicle, she adds, "I wouldn't be able to do that."
More Americans at risk of car repossession
April 20, 2023
02:03
But last year, LeSage was told her car was at risk of repossession after she fell behind on the payments.
"For me, every penny counts and just to lose a couple of cents on gas is devastating sometimes," LeSage says.
LeSage is among a growing number of Americans who have found themselves confronting financial hardship as the U.S. economy has slowed. On Thursday, the U.S. Bureau of Economic Analysis reported gross domestic product fell to 1.1% in the first quarter, the lowest reading in nine months. The GDP is the value of the final goods and services produced in the country and a strong indicator of how healthy the U.S. economy.
Strapped for cash
The slowdown is starting to show up in Americans' personal finances. According to a recent survey from Bankrate, 49% of U.S. adults have less savings compared to a year ago. Ten percent of those surveyed said they have no savings at all.
The upshot: The most disastrous outcomes for U.S. households, like auto repossessions and home foreclosures, have begun to climb.
"As a result of the expiration of government stimulus and current [economic] headwinds, we have seen delinquencies ticking up in this space over the last several months," said Margaret Rowe, a senior director at Fitch ratings group.
Fitch data show U.S. auto loan delinquencies among subprime borrowers have just about returned to pre-pandemic levels from the record low set in summer 2021. 
Meanwhile, home foreclosure filings have begun to surge. According to data from ATTOM, a property analytics company, U.S. foreclosure filings totaled 95,712 in the first quarter of 2023. That's 6% higher than in the previous quarter and 22% higher than a year ago.
March alone saw 36,617 U.S. properties in foreclosure, a 20% increase compared to February and 10% higher than a year ago. It was the 23rd consecutive month with a year-over-year increase in foreclosure activity.
In an emailed statement, Attom CEO Rob Barber noted some of the increase in foreclosure activity can be explained by lenders working through a backlog that had built up while the pandemic-era federal foreclosure moratorium was in place. That pause ended in July 2021.
By that point, he said, an estimated 2 million homeowners had fallen behind on their home loans amid job losses and other hardships brought on by the pandemic.
Overall, Barber said, the increase since then hasn't been nearly as severe as some economists and industry experts expected. Many homeowners benefited from a strong pandemic-era economic rebound — one that included a yearlong home-buying spree during a period of low interest rates, he said. Unemployment also remains at historic lows; the relative job stability has allowed many delinquent homeowners to catch up on mortgage payments.
And as home prices have skyrocketed over the past couple of years, homeowner equity has increased — something Barber said has provided an incentive for delinquent homeowners "to find a way to get back up to date on their loans."
He noted ATTOM data shows 94% of homeowners with mortgages had at least some equity built up in their properties in the fourth quarter of last year, with nearly half being "equity-rich," meaning they owed less than half of what their properties were worth.
"More income, more equity and lower payments set the stage for a more modest rise in foreclosures than predicted," Barber said.
But the outlook for the rest of the year remains murky, he said, given the changing housing market, higher mortgage interest rates and inflation.
"It's likely that foreclosure filings will keep rising, but nothing like we saw back when the bubble burst in 2008," Barber said, referring to the start of the financial crisis of 2008 and 2009.
Rick Burrows, 61, from St. Charles, Missouri, was about $23,000 away from paying off his loan when his lender began the foreclosure process on his house late last year.
Burrows lives alone and has been in his current house for more than two decades. In 2020, he contracted Covid-19 and spent around seven weeks on oxygen. The experience pushed him into unemployment for several months, which caused his credit score to plummet.
In 2021, his car, which he uses to serve legal papers, was repossessed.
"It seems like every time I turn around financially, just as I start to be able to get back on solid ground something else happens," Burrows said.
Today, he still suffers from the long-haul effects of Covid which often leave him fatigued while working. Burrows said his income varies between $1,500 to $2,500 per month. With fluctuating prices on everything from groceries to gasoline, he struggles to keep himself afloat while managing the additional medical bills for physical therapy.
A recession comes into view
Fitch economists expect a "mild recession" later this year, Rowe said, even as analysts anticipate unemployment to stay relatively low.
Still, she said, "the expectation is that deterioration [in credit quality] will continue."
In January, Taqwetta Crawley, 43, lost her home in Hampton, Connecticut, to foreclosure. She had fallen into a predatory loan and when the pandemic hit, she was left with no means to pay her mortgage, which soared from $95,000 to $250,000.
Crawley now lives with her sister.
"I'm literally living off the charity of other people," she says. "That's how I'm existing."
She said she hopes people would be more compassionate toward those experiencing foreclosures.
"I had so many investors, I had so many wholesalers, I had at least three scammers who came into my house and treated me like absolute trash, like I was in the way of them making money, [who didn't allow] me to maintain my dignity for what it is that I was about to lose," she says.
In retrospect, she wishes she had known the options that were available to her and now she is refocusing her efforts to educate others who are experiencing similar hardships.
Where to find help
Help is indeed available for homeowners, said Sarah Bolling Mancini, a senior staff attorney at the nonprofit National Consumer Law Center. Some of those resources include the Homeowners Assistance Fund, a Covid-era support program. Mancini said homeowners should be proactive in talking to their lender or mortgage servicer, most of which have forbearance programs available that can help distressed homeowners buy some time.
"It's important for consumers to reach out proactively," she said.  
Unfortunately, there is less support for renters, as pandemic-based assistance programs have mostly been exhausted, according to Mancini.
Crawley says her biggest desire now is to become financially stable for her daughter.
"I want people to understand that a foreclosure and eviction is not indicative of a person being untrustworthy, or a person that doesn't deserve any sort of empathy or compassion," Crawley said. "Things happen, situations occur. And some people just don't have the support system. They don't have that village, they don't have the resources, the job that will allow them to fully handle everything."
Looking back, Burrows, the Missouri resident, said he wishes he had put more money away.
Source: https://www.nbcnews.com/business/consumer/foreclosures-car-repos-rising-why-americans-are-living-financial-cliff-rcna80638
Related Posts