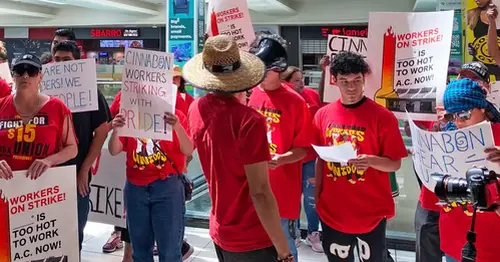 Workers at a Los Angeles Cinnabon strike to protest Pride policy
The entire staff of a Cinnabon store in Los Angeles walked off the job Friday after filing a civil rights complaint against their employer over a recent policy that they say bans all Pride decor.
The 14 employees from the Northridge store allege in their complaint that Greg Reheis, the vice president of operations at 13th Floor Capitol/Pilot LLC — which owns this and 15 other Cinnabon stores — sent out a message in a company group chat on June 16 saying that any Pride flags displayed in any of the stores had "to be taken down IMMEDIATELY!," according to their complaint, which was filed Monday with the California Civil Rights Department.
"We do not discriminate or celebrate any particular race, ethnic group, gender specific group, religious group," or anything else, Reheis wrote in one of the messages, which are included in the complaint. 
The striking workers are asking the California Civil Rights Department to take action to stop Cinnabon from discriminating against employees based on their sexual orientation, gender identity and gender expression and force them to retract the policy. They also demand that Cinnabon "trains managers and employees to comply with existing laws prohibiting discrimination on the basis of sexual orientation, gender identity and gender expression." Neither 13th Floor Capitol/Pilot LLC nor Reheis returned requests for comment. 
"We are fighting to defend our civil rights, including the right to express our identities and our solidarity with one another," the complaint says. "Cinnabon ought to be a place where we can come to work and feel good about ourselves, without being singled out and discriminated against on the basis of sexual orientation, gender identity and gender expression."
After Reheis announced the ban on Pride decor, an employee responded in the group chat and asked if it would be acceptable to wear a pin, according to the complaint. Reheis responded, "Non specific pins (happy face, etc) are OK. But sports team, group, school pins, etc., are not OK."
The employee said "So a rainbow pin is ok," with a thumbs up emoji, and Reheis said, "Nope, that would be specific to a group," the complaint states.
It's unclear whether the Northridge store had Pride decor up at the time, but after the policy announcement, some employees brought rainbow pins and put them on their aprons to assert their rights, the complaint says.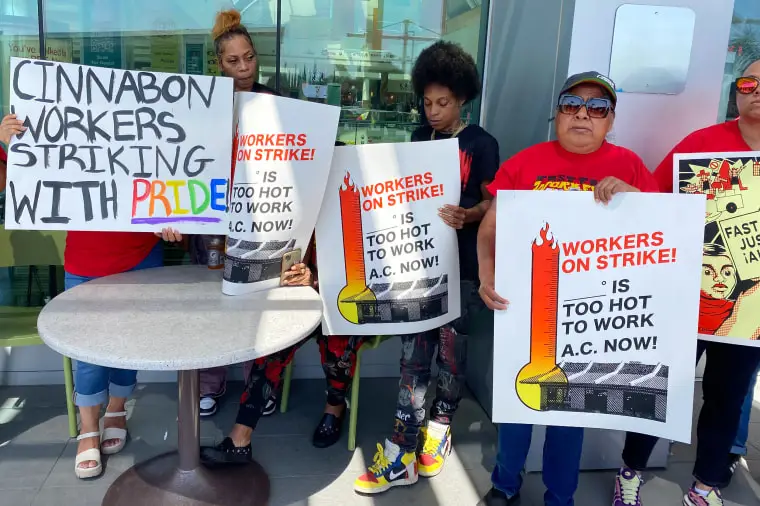 Vero Aguilar, who has worked at the store for almost two years, said she has been out as a lesbian since 2011 and "has always been proud of who I am." 
But Reheis' messages "made me feel like I had to hide myself again." 
"I started to not feel comfortable in my own skin," she said. "It really lowered my self-esteem, and I was starting to not like myself when I looked in the mirror."
She said she is striking because she fears the company could discriminate against her and other LGBTQ employees in other ways. 
"In the world that we're living in right now, where people are being attacked just for how they look, their religious practices and who they love, it is a very dangerous world to be in," she said. "What happens if I or another LGBTQ member is attacked during our shift? We wonder, would Cinnabon have our back? Or would they just look the other way? We just want to feel safe."
She added that the new policy doesn't align with how her Cinnabon store and the other 15 owned by 13th Floor/Pilot LLC currently celebrate holidays. 
Many of their promotional celebrations are coordinated by Cinnabon at the national level, according to the complaint, and franchisees are not allowed to opt out of those promotional campaigns. The stores celebrate the Christian holidays of Christmas and Easter, and the gender-specific holidays of Mother's Day and Father's Day. 
The complaint adds that Cinnabon allows for-profit and not-for-profit groups, including religious groups, schools and sports teams, to host fundraisers, "clearly associating Cinnabon with support for those groups."
These other celebrations and fundraisers, the complaint says, "provide overwhelming evidence that the policy issued June 16th is, in fact, a homophobic and transphobic policy applied only to Pride."
The employees' strike over Pride decor is an example of a larger trend of corporations backing away from overt support for the LGBTQ community for fear of public backlash. 
Source: https://www.nbcnews.com/nbc-out/out-news/workers-los-angeles-cinnabon-strike-protest-pride-policy-rcna98244
Related Posts