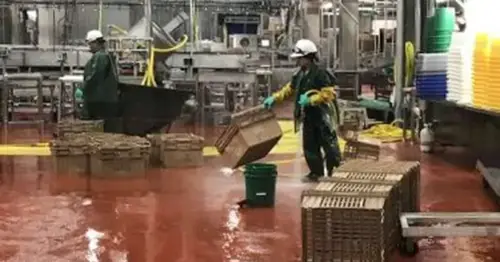 Workers for slaughterhouse cleaning firm PSSI repeatedly used stolen identities to get jobs
Workers for a company recently found to have hired more than 100 children to clean slaughterhouses have repeatedly used stolen identities to get hired, according to former company managers, local police officials and individuals who told NBC News their identities were stolen. 
A Texas woman reported having her ID used twice by workers for Packers Sanitation Services Inc., the second time years after she'd already complained to the company.
A former plant manager who did not want to be identified told NBC News that PSSI repeatedly hired people with obviously fake IDs. "There's no one else who wants to do [the work]," he said.
NBC News speaks to migrant teen working in dangerous slaughterhouse
April 12, 2023
04:26
PSSI employs 17,000 workers nationwide and sanitizes more than 400 slaughterhouses and other facilities during overnight shifts. Working conditions are hazardous and it is against the law for anyone under 18 to work there. The company reached an agreement with the Labor Department after investigators uncovered children as young as 13 working dangerous jobs in 13 locations in eight states. In February, the company paid a $1.5 million fine and agreed to three years of increased oversight.
Click here to read more about slaughterhouses and child labor
Company spokesperson Gina Swenson told NBC News that the company maintains rigorous controls over who is hired. "We have underscored repeatedly," she said, "that the only way our extensive procedures can only be circumvented is through deliberate identity theft or fraud committed against our company — as occurred here."
Swenson said the company's compliance hiring process has successfully caught over 8,000 instances of identity verification issues since 2020, which she said clearly demonstrates a commitment to rooting out violations rather than tolerating them." She said, "It also speaks to the significant and growing level of identity fraud private employers are being asked to combat. This directly contradicts the false claims made by these anonymous former local employees who are unjustifiably seeking to smear our company."
Felipe Garcia's identity was stolen and used by a PSSI worker in Kansas.
The father of five, 30, works for an agricultural technology company in Holland, Michigan, where he was born and has lived his whole life. He said he's been dealing with the maddening fallout from identity theft for the past five years with workers employed by PSSI and eight to 10 other companies, mostly in Nebraska.
But he said the most recent example troubled him the most.
A few months ago, Garcia was notified of a new W2 tax form showing his identity was being used by a worker for PSSI at a slaughterhouse in Liberal, Kansas. Shortly after that, he said he read the NBC News story showing that the company hired children using fake IDs and he reached out to NBC News.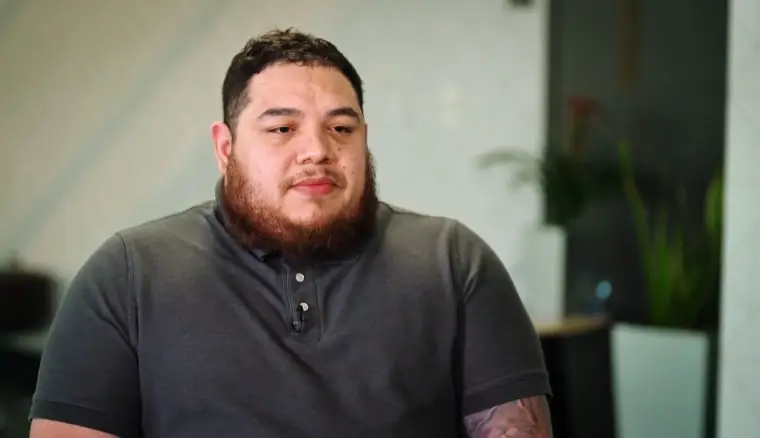 "The fact that a child could be using it is a different thing that I never thought would have happened," he said.
He said that after years of handling the hassle of identity theft, he's become accustomed to the headache. "But I have kids and if something were to happen using my identity — I used to work sanitation when I was 18 and I have seen people hurt severely where they can't work anymore."
"So I don't want a kid going through that at a young age and affecting them in the long run," he said.
Tax forms Garcia shared with NBC News from the past five years show workers at multiple other workplaces in Nebraska used Garcia's identity. There is no evidence that any of the workers who used his identity, including the PSSI employee, were minors.
Over 100 minors found illegally employed cleaning slaughterhouses
Feb. 18, 2023
03:59
His example illuminates the hassles of identity theft for its victims.
The theft has led to hours of personal detective work by the father of five as he hunts down company employees and local law enforcement to stop the impersonation. "I do most of the investigation by myself and then I hand it off to the police department," he told NBC News.
He said the toughest time is around tax season, when the IRS calls to ask questions about how he was able to hold down multiple jobs in multiple states.
Garcia said he's been frustrated by skeptical law enforcement officers who don't believe him. In 2021, Garcia was so irritated with a small-town Nebraska officer that he said he and his wife drove 12 hours to Nebraska to prove in person that he was in fact the "real Felipe Garcia."
PSSI told NBC News in a statement in response to Garcia's case, "We sympathize with these individuals who were the subject of criminal identity theft. We have extensive procedures to assist people who report being the victim of identity fraud and prevent the rehiring of someone using the same false identity in the future."
PSSI spokesperson Gina Swenson said the company has made it clear in their system not to rehire anyone using Felipe Garcia's identity in the future.
'A clerical error'
Garcia was not the only person to reach out to NBC about their identity being used by a PSSI worker.
A 34-year-old Texas woman who did not want to be named contacted NBC News to say her identity was also stolen and used at least twice by PSSI employees.
She said she first learned of the theft in 2014, when she received a W2 for a PSSI worker at a Dodge City, Kansas, slaughterhouse. She said she was surprised to see from Google maps that the home address the person used was not even a real address but an intersection.
Large sanitation company facing child labor accusations
Feb. 22, 2023
03:15
She said she quickly contacted PSSI's human resources department to complain and asked to see what kind of documentation and photograph the worker had used. "I just remember insisting so much how much I wanted to see the documents," she said.
She said the company told her the person had already been terminated but would not share what documents it had approved. She said PSSI reassured her it would label the name as a "do not re-hire" so that the false identity would not be used again.
"I just assumed it was fixed," she said.
But then it happened again. In November 2019 she got a W2 from another PSSI worker, again employed in Dodge City and using the same address, which left her "extremely upset."
The second impersonator also used the woman's identity to get health care, which she said resulted in collection notices for past due bills and which she noted in emails to PSSI that she shared with NBC News.
Swenson, the PSSI spokesperson, told NBC News that the company attributes the mix-up to "a clerical error."
"This stolen identity should have been marked as ineligible for future hiring under our policies — as occurred in 2019," said Swenson. "We sincerely apologize … for this issue."
Two former managers who did not want to be identified told NBC News that while the company runs identities through the federal government's E-Verify system to ensure that the name matches a real Social Security number, the company repeatedly approved fake-looking documents.
The first former manager said the use of fake IDs by undocumented workers in the slaughterhouse industry is common, but PSSI was "not looking for false identities," even though sometimes the falsification should be easy to detect.
He said he was aware of cases in which the company would go ahead and hire an employee as long as the Social Security number and name passed the government's E-Verify system, even though there were discrepancies. He said the company did sometimes turned applicants away for presenting false IDs.
A second former manager who recently left the company and worked for PSSI in the Midwest for more than 10 years said that, when he started, he used fake documents himself. He told NBC News that the quality of the counterfeit IDs could often be detected by how they felt in your hand. "The color of it, the texture of how it feels," he said.
That manager, when asked how workers obtain false documents, provided NBC News with the name and cellphone number of a person who he said regularly provided false IDs to PSSI workers.
NBC News texted the cellphone number but the person did not respond to repeated requests for comment.
"It's kind of like the drug trade," said the former manager. "There is always a drug dealer — there is always someone who has docs."
The former manager said workers told him the cost of an ID with a name and Social Security number was anywhere from $100 to $300 but the actual documents needed for employment, such as a Social Security card, would cost $1,000 to $1,500.
Gary Salmans, investigator for the Ford County Sheriff's Office in Dodge City, told NBC News that 70% of the local identity theft reports his department receives are related to the meatpacking industry.
Salmans said there's a wide range of quality in the fake IDs. "Some of them are very well done. Some of them are actually state IDs. And then some of them look like a high school attempt to get into the bar," he said, adding that the department is currently investigating an identity theft case involving a PSSI worker.
Local police reports from Grand Island, Nebraska, and Worthington, Minnesota, where PSSI had contracts to clean major slaughterhouses show numerous cases of identity theft.
NBC News obtained police reports about false identities that were used to obtain work in Kansas meatpacking plants and were linked to victims in states that included Texas, Illinois, California, Kansas, Arizona and Colorado.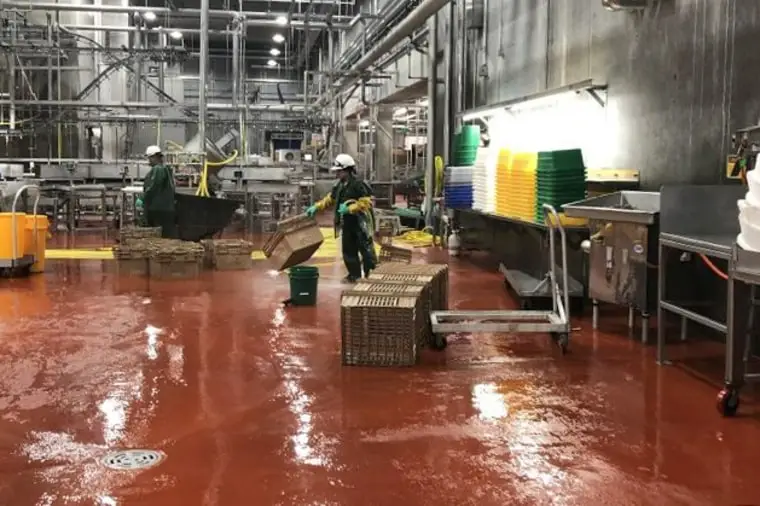 Dodge City Deputy Police Chief Jerad Goertzen confirmed identity fraud cases have been an issue in the area "for years" and said they are "some of the hardest cases to work" since the responsibility often falls on the victim to prove the individual using their information wasn't them.
As NBC News has previously reported, the Department of Homeland Security is investigating migrant children found cleaning slaughterhouses and is now working with the Justice Department to examine whether a human smuggling scheme brought migrant children to work in multiple slaughterhouses for multiple companies across multiple states, according to two U.S. officials familiar with the investigation. There is no indication that DHS is investigating PSSI or the slaughterhouse companies for trafficking.
Source: https://www.nbcnews.com/news/us-news/workers-slaughterhouse-cleaning-company-pssi-used-stolen-identities-rcna77154
Related Posts