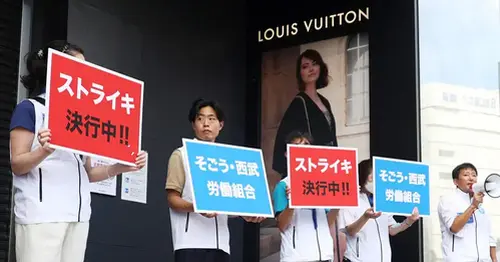 Workers stage Japan's first strike in decades to protest department store sale to U.S. fund
Workers at a major Tokyo department store went on strike on Thursday after talks with management over the planned sale of their company broke down, marking the first major walk-out the country has seen in decades.
Some 900 workers at the flagship Seibu store in the bustling district of Ikebukuro are protesting the sale of Sogo & Seibu, a unit of retail giant Seven & i, to U.S. fund Fortress Investment Group.
They are seeking job and business continuity guarantees, unhappy with reported plans for discount electronics retailer Yodobashi Holdings to take over roughly half of the store.
Critics, which include officials in Ikebukuro, argue that such a change, which would replace many individual boutiques in store, would also cheapen the store's image.
Treated radioactive wastewater from Japan's Fukushima pumped back into Pacific
Aug. 24, 2023
02:01
The deal will close on Friday, Seven & i said, adding it had reduced Sogo & Seibu's sale value by 30 billion yen ($205 million) from the originally agreed 250 billion yen after requesting Fortress give "maximum consideration of Sogo & Seibu's business continuation and continuation of employment".
Seven and i will also waive 91.6 billion yen in debt, or more than half the amount it has lent to its unit, as part of the deal.
Strikes are extremely rare in Japan, where negotiations over wages and work conditions are typically agreed amicably. This one-day strike — the first at a major Japanese department store in 61 years — followed months of negotiations between Sogo & Seibu management and the workers' union, and comes amid a labor shortage in Japan.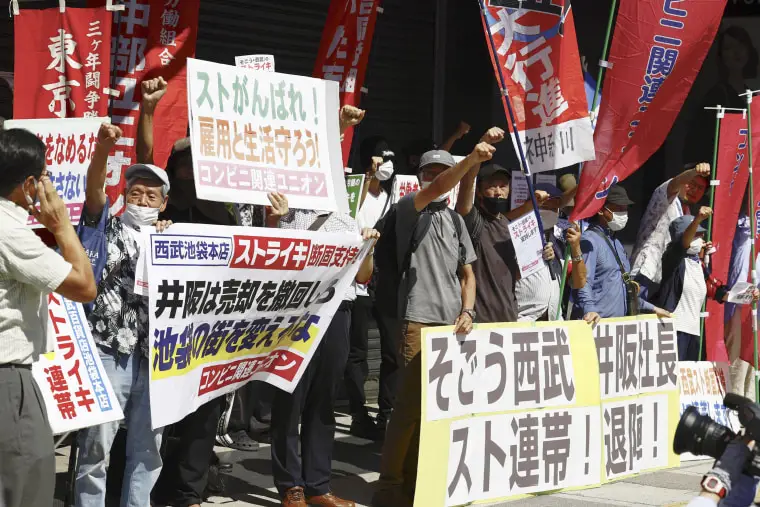 On Thursday morning, Seibu workers protested in front of the store in the summer heat while members of various other unions handed out flyers to show their support.
Seven & i apologized for the strike and said the subsidiary would continue to hold talks with the union. Other Seibu and Sogo department stores were open for business as usual.
Fortress and its partner in the deal, Yodobashi, were not immediately available for comment.
The strike comes amid an extremely tight labor market in Japan, where workers at major companies won the biggest wage increases in three decades at labor negotiations this spring. Those gains have, however, been eroded by inflation at a 41-year high, and wages in real terms have continued to fall.
Sogo & Seibu's workers had the support of labor groups from rival department stores including Takashimaya and Isetan Mitsukoshi.
"I think many workers have gotten some encouragement from this case," said Rikkyo University professor Wakana Shuto, who specializes in labor issues. "Considering the industry's difficulties, the conditions at Sogo & Seibu are not unique."
The Seibu Ikebukuro store is Japan's third-largest department store by sales, according to media reports, but its owner Sogo & Seibu has been in the red for the last four years.
For overseas funds looking to restructure Japan Inc brands, the walk-out raises the specter of similar hurdles, said Tokyo-based corporate lawyer Stephen Givens.
"You can acquire a Japanese company, as a foreigner, through brute force, and it's not going to do you any good if the people who are actually managing the Japanese company and working for the Japanese company aren't happy with results," he said.
Source: https://www.nbcnews.com/news/world/workers-strike-japan-protest-department-store-sale-rcna102696
Related Posts